Zachary Schwartz & Stephen Lightle - Fibs And Philosophies (2011)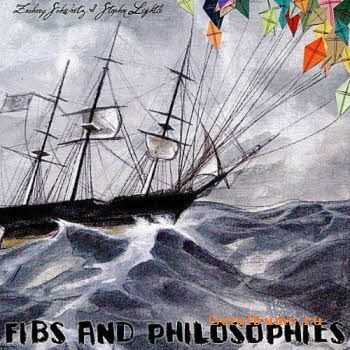 Исполнитель:
Zachary Schwartz & Stephen Lightle
Альбом:
Fibs And Philosophies
Год выхода: 2011
Страна: Brave New Records
Жанр: Folk, Indie, Alternative, Punk
Время: 42:52 Min
Качество: Mp3 | 320 kbps
Размер: 104 mb
Треклист:
1. Our Miracles
2. God Lied
3. Farewell to Iowa
4. The Flag of the Vagrant
5. Oh Soul!
6. Make-up Ad on Fuencarral
7. We Won't
8. Church for Peace
9. Deep Breath
10. Perfect Tyranny
11. What God Is For
12. Saint Augustine
13. Niebla.
14. The Ones to Blame
15. Cotton String and Two Tin Cans
16. Blood Is Blood
17. The Scared, The Proud, The Naive
18. Nuestros Milagros
Zachary Schwartz & Stephen Lightle are responsible for Fibs and Philosophies. Some friends spent 9 months in a basement recording some songs. What resulted was an 18 song punk-influenced Folk-Rock record that is, if nothing else, honest and filter-free. Written, recorded, and mixed entirely in-house, the latest album showcases the creative tenacity of two broke guys with a couple of guitars, drum set, and a recording studio made out of top-of-the line sound-insulating blankets.
In effect, the duo created a fast-paced folk-rock album infused with some softer ukulele/vocally based tunes. With the generous help of a few other, similarly funds-deficient friends' viola, trumpet and vocal stylings, this latest DIY album from Brave New Records isn't rational or generic, methodical or cautious.
Информация
Посетители, находящиеся в группе Гости, не могут оставлять комментарии к данной публикации.