Native Intelligence & Navarro - Preparations For The Unknown (2011)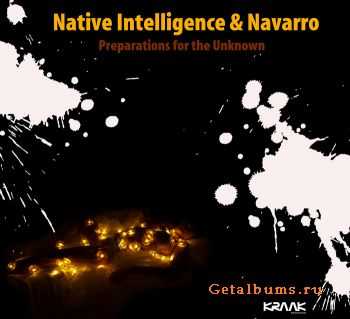 Artist
: Intelligence & Navarro
Title Of Album
: Preparations For The Unknown
Year Of Release
: 12.15.2011
Label
: Kraak Records / KRK 044 / WEB
Genre
: Ambient / Downtempo
Format
: mp3
Quality
: 320kbps/44,1kH
Total Time
: 70:35 min
Total Size
: 161 MB
Tracklist:
01. Invitation to Meta 05:01
02. Day at the Beach, Locked Inside 06:27
03. Infinite Vibrance 05:26
04. Taste of Rain feat. Lara Aguiar 05:13
05. Islands of Xanbar 06:14
06. Preparations for the Unknown 07:56
07. Preparations for the Unknown (Mixed Album) 34:18
Preparations for the Unknown is the first ep release on Kraak
records of Native Intelligence and Navarro, a fresh duo from San
Francisco. They came together one day, each of them bringing their
unique element to the project and the results were pure magic!
Preparations for the Unknown is a dark, trippy and mysterious
release. The massive ambient electronica sounds create an intense
and deep atmosphere while the melodic streaks full of emotion give
to it a more dreamy and trip touch.
The project was made intentionally to work as a seamless and
original mix, kind of like telling the same story with different
versions, so from tracks one to six you get the short tales while
on track seven you get the full mixed album.
Supported by: Liquid Radio (FM4 Austria), Christian Brebeck (Munich
Radio Germany), Double-D (Radio Z Germany), Lofty (Ambersound FM
UK), Mousiko Kanali (Crete, Greece), Miguel (Ibiza Global Radio,
M-Path (We Are On Air, Germany), Savages (Hungary), Zamali
(Belgium), VIM Recs, TotalCult, MustBeat Crew, Eric Chaikovskiy and
Dr. Best.
Информация
Посетители, находящиеся в группе Гости, не могут оставлять комментарии к данной публикации.