Radere - I'll Make You Quiet (2012)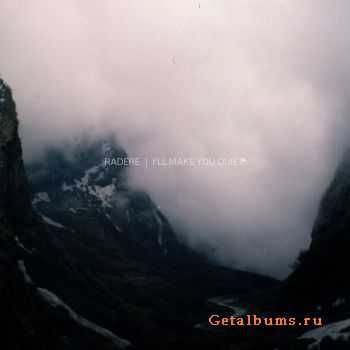 Artist
: Radere
Title Of Album
: I'll Make You Quiet
Year Of Release
: 24-01-2012
Label
: Futuresequence
Genre
: Ambient / Drone / Noise
Format
: mp3
Quality
: 320 Kbps
Total Time
: 46:39 min
Total Size
: 106 MB
Tracklist:
1. I'll Make You Quiet
2. Sometimes, I Can't Make Full Sentences
3. …So I Left
4. Good Evening, Ghosts (Version)
5. Stay Away
The iconic rock formations of Colorado's Rocky Mountains are home to experimental artist Carl Ritger. A far cry from his hometown of Philadelphia, their impressively cinematic yet naturally rugged presence has exerted an influence on the artist in the relatively short time he has lived there. His fourth full-length album as Radere, I'll Make You Quiet, narrates the scission of emotion generated from moving to new surroundings, a sense of wonderment and intimidation of being in the shadow of the mountains' grand spectacle whilst intrinsically drawing on the melancholic loss of the past.
To date, Carl has primarily concerned himself with the creation of long-form textured drones. Releases like Maple Drip (Rural Colours), A Season in Decline (Full Spectrum Records) and Lost at Sea, I'm Never Coming Back (Basic Sounds) have all possessed an unraveling nature, unrestricted and formless by definition. I'll Make You Quiet upsets this rhythm, setting clearly defined boundaries around individual tracks. The result is Carl's most complete work to date, a leap forward in aesthetic maturity; the manifestation of an accomplished artist who has reached a summit in their career.
Creating a majestic sculptural architecture, given depth and life through his skillful ability to layer worn and distorted sound in moving patterns, Carl also weaves found sounds into the mix. Recordings of a set of house keys, an electric toothbrush and a tape recording of a flock of crows all make their way into these arrangements, as well as his signature processed guitar and electronics. Each track on the album was recorded primarily in single-take sessions, an intimate approach that reflects Carl's interest with the unpredictable; sounds created out of chance, and an embrace of the temperamental nature of analog tape rather than digitally rendered files.
Информация
Посетители, находящиеся в группе Гости, не могут оставлять комментарии к данной публикации.