Praveen - 12 Lights [GMS Exclusive] (2012)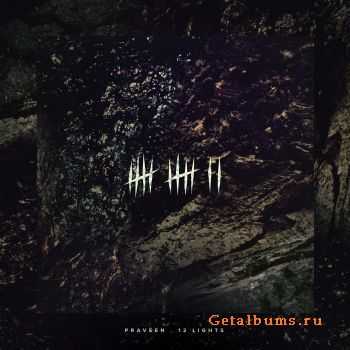 Artist
: Praveen
Title Of Album
: 12 Lights
Year Of Release
: 2012
Label
: Ghostly International
Genre
: Ambient / Electro-Acoustic / Instrumental
Format
: mp3
Quality
: 320 Kbps
Total Time
: 44:35 min
Total Size
: 170 MB
Tracklist:
1. 12 Lights
2. In The Morning (Ft. BenoÓt Pioulard)
3. At A Loss (Ft. BenoÓt Pioulard)
4. Bottle Prince
5. Trapped (Ft. BenoÓt Pioulard)
6. Chime, Chimera (Ft. BenoÓt Pioulard)
7. Darling
8. Just Choose
9. King (Ft. BenoÓt Pioulard)
10. Sincere (Ft. Sougwen Chung)
11. Ride Home
12. Knives & Forks
13. Untitled (Ft. BenoÓt Pioulard)
Praveen Sharma's second album, Twelve Lights, is an exploration of layered, melancholic recordings made during the last four years. With a more expansive breadth of instrumentation than 2008's Song's Spun Simla EP, Sharma enlists the vocals of Benoît Pioulard to cut swathes of gorgeous, granulated sound from weary field recordings and acoustic instruments.
On the title track, plucked guitars, sub-bass and melodica introduce you to the album like a punch to the heart. Brief dictaphone recordings of Praveen & Benoît slowly transform into carefully processed and protracted granular workouts on "In The Morning", "Trapped" and the album's last, untitled track. Benoît's vocals lead the bombastic "At A Loss", "King" and "Chime Chimera" (visual artist and violinist, Sougwen Chung contributing violin to the latter). "Bottle Prince", "Darling" and "Knives & Forks" wring shimmering, carefully aged, streams of noise from short, focused, acoustic motifs.
On Twelve Lights, Praveen channels his experience as 1/2 of bass-music duo Sepalcure (alongside long time friend Machinedrum) in tracks such as "Just Choose", a number that harkens to the chopped vocals and brooding rhythms of Mount Kimbie or Sunken Foals. Recorded concurrently between Leopard Studio in upstate NY as well as Sharma & Pioulard's own studios in Brooklyn and Portland, Twelve Lights stands out from Sharma's recent work as Sepalcure or Braille; a testament to his diversity as a songwriter, artist and producer.
Информация
Посетители, находящиеся в группе Гости, не могут оставлять комментарии к данной публикации.