VA - Out Of Standard!! - Italia 1-2 (1986)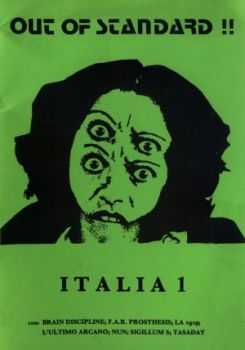 Исполнитель:
VA
Альбом:
Out Of Standard!! - Italia 1-2
Год выхода: 1986
Страна: Germany
Жанр: Industrial, Experimental, Ambient
Качество: 320 kbps
Размер: 178.36 MB
Треклист:
CD: 1
a1. LA 1919 - Cornelius Cardew
a2. TASADAY - Tu sei quello
a3. BRAIN DISCIPLINE - Le oscure sorgenti
a4. L'ULTIMO ARCANO - 1984-1985
b1. SIGILLUM S - Into the sephiroth
b2. F:A.R. PROSTHESIS - Movements
b3. NUN - Extracts from "Controtempo ?"
CD: 2
a1. EVITAXAL - In between
a2. CHRISTINA KUBISCH/ROBERTO LANERI - Didjeriduo 1985
a3. CHRISTINA KUBISCH - Ocigam Trazom
b1. LUCA MITI - Serenata II, di passaggio (incontri)
b2. RICCARDO SINIGAGLIA/MARIO DE LEO - Moto music
b3. RAFFAELE SERRA - Shades and drumbeats
b4. ALESSANDRO BRUNO - Extract from "E.N.O." (electronic neverending outline)
Информация
Посетители, находящиеся в группе Гости, не могут оставлять комментарии к данной публикации.