Uruk-Hai - Tawantinsuyu (2006) [LOSSLESS]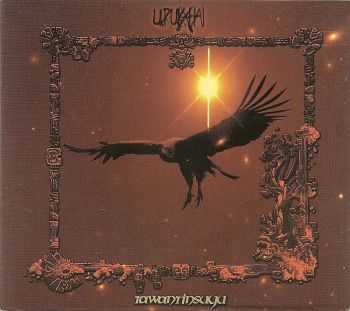 Исполнитель: Uruk-Hai
Альбом: Tawanthinsayu [Limited edition, digipak]
Страна: Austria
Жанр: Dark Ambient, Battle Ambient
Год выхода: 2006
Кол-во композиций: (1)12 [CD-Rip] MORNING SIDE RECORDS /TEMPLE 002
Формат: 831 kbps FLAC [image.cue.log. Full scans]
Размер: 392.06 Mb
Файлообменник: Rusfolder

Tреклист:
1a. Introduction 1'54
1b. The Land Of The Four Suyus 10'17
1c. The Ceque System 5'59
1d. Viracocha [The True Sun] 6'50
1e. Mountains Of Palpa 3'42
1f. Catequil [God Of Thunder And Lightning] 1'19
1g. Flight Of The Condor 5'55
1h. Ka-Ata-Killa 2'02
1i. Arrival Of The Gods 5'37
1j. ...From The Stars 3'25
1k. The Lake 13'19
1l. Gold [The Sweet Of The Sun] 7'06

Mastered as a single with track length 1:19:27.
Comes in a 4-panel digipak.
Limited edition of 1000 copies.
Matrix / Runout: SONOPRESS 310306 TEMPLE002 # 1



Download:

Информация
Посетители, находящиеся в группе Гости, не могут оставлять комментарии к данной публикации.