The John O'Leary Band - Two for the Show (2CD) (2010)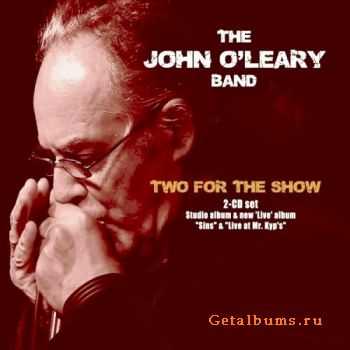 THE JOHN O'LEARY BAND
Two for the Show
Country:
UK
Label:
Trapeze TRDCD3501
Genre:
Blues, Harmonica Blues
Format:
MP3
Quality:
CBR 320 kbps
Total Time:
2 h 01 m 23 s
Total Size:
275 Mb
WebSite:
MySpace
WebSite:
The John O'Leary Band
This 2-CD comprises the 2004 self-released studio album "Sins", well-reviewed at the time of original issue, and a hitherto unreleased 2006 'live' album recorded at Mr. Kyp's club in Poole. The two albums present the top class musicianship of the outfits in the contrasting environments, and are a worthy showcase for one of the great names of British blues.
Harmonica wizard John O'Leary is a veteran of the British blues scene, having been a founder member back in the '60s of the Savoy Brown Blues Band, who developed British blues into a stadium rock attraction in the USA, and was a member of the John Dummer Blues Band and Mainsqueeze. He has often toured Europe over the years playing with visiting US blues luminaries. For the last couple of decades he has put together successive highly professional line-ups of European talent working clubs and festivals on a regular basis.
Tracklist: CD1 - Sins
01. Early In The Morning (4:24)
02. Snatch It Back (4:13)
03. I'm Tired (4:21)
04. Blue Water (3:04)
05. Who's Been Talking (5:25)
06. Waiting For You (4:13)
07. And Everything (4:31)
08. House Of Ice (4:09)
09. Black Cat Bone (3:53)
10. Move Away (4:39)
11. Chiswick Roundabout (4:28)
12. Save My Soul (3:46)
Tracklist: CD2 - Live at Mr. Kyp's
1. Born In Chicago (7:32)
2. Snatch It Back (7:42)
3. Early In The Morning (10:16)
4. Butterfingers (7:45)
5. Little By Little (7:47)
6. Who's Been Talking (11:17)
7. Black Cat Bone (11:11)
8. Look On Yonder's Wall (6:47)
Информация
Посетители, находящиеся в группе Гости, не могут оставлять комментарии к данной публикации.