Bill Wyman & The Rhythm Kings - Blues Odyssey (2CD) (2001)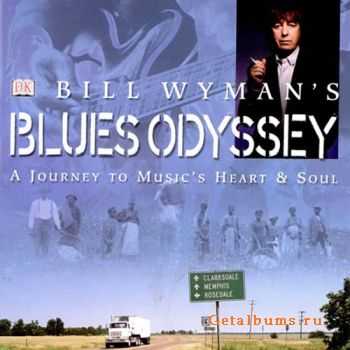 Исполнитель:
Bill Wyman & The Rhythm Kings
Альбом:
Blues Odyssey (2CD)
Год выхода: 2001
Страна: UK
Жанр: Blues-Rock
Качество: 192 kbps
Размер: 93,9 mb + 87,5 mb
Треклист:
CD1
01-Mamie Smith - Goin' Crazy With The Blues
02-Bessie Smith - Lock And Key
03-Papa Charlie Jackson - All I Want Is A Spoonful
04-Blind Lemon Jefferson - Black Snake Moan
05-Luke Jordan - Church Bell Blues
06-Blind Blake - Southern Rag
07-Frank Stokes - What's The Matter Blues
08-Mississippi John Hurt - Stack O'Lee Blues
09-Pine Top Smith - Pine Top's Boogie Woogie
10-Montana Taylor - Indiana Avenue Stomp
11-Tampa Red & Georgia Tom - The Duck Yas Yas Yas
12-Charley Patton - Shake It and Break It (But Don't Let It Fall Mama)
13-Frankie 'Half-Pint' Jaxon - Come On Mama, Do That Dance
14-Jesse 'Babyface' Thomas - Blue Goose Blues
15-Speckled Red - The Dirty Dozens
16-Blind Willie Walker - South Carolina Rag
17-Bo Carter - Pussy Cat Blues
18-Blind Willie McTell - Searching The Desert For The Blue
19-Joe Pullum - Cows, See That Train Comin'
20-Rob Cooper - West Dallas Drag
21-Bumble Bee Slim - Ramblin' With That Woman
22-Casey Bill Weldon - W.P.A. Blues
23-Meade 'Lux' Lewis - Honky Tonk Train Blues
CD2
01-Robert Johnson - Terraplane Blues
02-Walter 'Cowbot' Washington - Ice Pick Mama
03-Black Boy Shine - Gamblin' Jinx Blues
04-Peetie Wheatstraw - Peetie Wheatstraw Stomp
05-Big Bill Broonzy - Good Boy
06-Georgia White - Alley Boogie
07-Blind Boy Fuller - Meat Shakin' Woman
08-Cow Cow Davenport - Railroad Blues
09-Sleepy John Estes - Special Agent (Railroad Police Blue
10-Joe Turner - Roll 'Em Pete
11-Lonnie Johnson - Jersry Bell Blues
12-Tommy McClennan - Brown Skin Girl
13-Memphis Slim - Beer Drinkin' Woman
14-Memphis Minnie - Me & My Chauffeur Blues
15-Big Joe Williams - Baby Please Don't Go
16-Pete Johnson - Dive Bomber
17-Sonny Terry & Brownie McGhee - Carolina Blues
18-Big Maceo - Kid Man Blues
19-John Lee Hooker - Boogie Chillin
20-Muddy Waters - You're Gonna Miss Me (When I'm Dead & Go
21-Lil Son Jackson - Rockin' And Rollin'
22-B.B. King - 3 O'Clock Blues
23-Elmore James - Dust My Broom
Информация
Посетители, находящиеся в группе Гости, не могут оставлять комментарии к данной публикации.