Leon Thomas - Blues and the Soulful Truth (1972)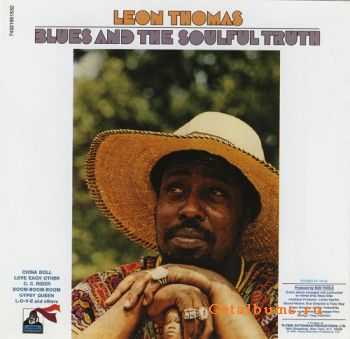 Artist
: Leon Thomas
Title Of Album
: Blues and the Soulful Truth
Year Of Release
: 1972
Label
: Flying Dutchman
Genre
: Jazz-Funk, Electric Blues
Quality
: FLAC (Tracks)+CUE, LOG
Total Time
: 00:42:40
Total Size
: 289 mb
The late Leon Thomas was a vocalist who has proven to be influential among jazz and blues saxophonists, guitarists, and pianists, who've admitted their debt to his innovation. However, though there are many jazz and blues vocalists who have benefited from his style as well, he is seldom acknowledged for his highly original -- and idiosyncratic -- contribution to them. One can only speculate as to why, though Thomas' full-throated style which employed everything from yodels and Joe Turner-ish growls and shouts may have been too wide for anyone to grasp in its entirety without overtly sounding as if they were aping him. At the time of this reissue (2001), the only other Leon Thomas titles available under his own leadership were a European best-of collection and the inferior live album (badly edited), Sunrise on Gold Mountain. Blues and the Soulful Truth is among the artist's most enduring performances, either as a leader or sideman. There is his trademark, otherworldly modal improvisation on Gabor Szabo's exotica classic "Gypsy Queen," the deep, greasy gutbucket, funky blues of "Let's Go Down to Lucy" and "L-O-V-E," and the traditional tune "C.C. Rider" -- though Thomas' arrangement is anything but -- among a lengthy, eight-song set. Perhaps the most revealing examples of his singularity is his ability to interpret a song like John Lee Hooker's "Boom, Boom" as funky, jazzed-out, angular R&B -- enabled mightily by the saxophone stylings of Pee Wee Ellis and the criminally under-appreciated pianism of Neal Creque and the wild violin of John Blair -- after coming out of a pop-oriented soul tune such as "Love Each Other," written with a groove prevalent among commercial jazz and R&B recordings of the time, both sounding sincere, authentic, and completely full of the singer's presence. Indeed, on the aforementioned "Gypsy Queen" or his own "Shape Your Mind to Die," Thomas inhabits his material fully, as if nobody ever had ever sung or heard these songs and would ever sing them again. Also, the production innovation and percussive touches many of these tunes have yet to be repeated (Pharoah Sanders, Thomas' previous employer who introduced the singer to the world, adopted some of the artist's percussive techniques permanently), like the firecrackers raining against Airto Moreira's drums and Larry Coryell's ethereal guitar riffs, or the use of a "prepared" vibraphone and coat hangers in "China Doll," as they slip against the singer's wail and moan, and the elegant stick and brushwork of Bernard "Pretty" Purdie. In sum, Blues and the Soulful Truth (Which does echo Oliver Nelson's Blues and the Abstract Truth in vision as well as title), is a tour through the depth and dimension of Thomas' mind-blowing abilities as a singer in a wide range of African American musical traditions, proving at the time, and now again, that he was far more than a free jazz singer. Indeed, the artist not only was a stylist of originality, but a composer, arranger, ethnomusicologist, and a singer of startling beauty and power -- no matter the song. This album is a singular achievement, even among the fine recordings in Thomas' own catalogue, and should be considered first by those curious enough to look into his work -- you won't be disappointed no matter what you find, but this one will take you places you never anticipated going. ~ Thom Jurek, All Music Guide
Tracks:
1. Let's Go Down to Lucy [Ellis, Thomas] (04:27)
2. L-O-V-E [Thomas] (02:54)
3. Gypsy Queen [Szabo, Weiss] (10:19)
4. Love Each Other [Thomas] (03:16)
5. Shape Your Mind to Die [Creque, Crequet, Thomas] (05:22)
6. Boom-Boom-Boom [Hooker] (04:52)
7. China Doll [Ellis, Kilpatrick, Thomas] (05:07)
8. C.C. Rider [Traditional] (06:23)
Personnel:
Leon Thomas Arranger, Bottle, Noise, Percussion, Vocals
Pee Wee Ellis Arranger, Conductor, Marimba, Organ, Piano, Saxophone (Baritone), Saxophone (Soprano), Saxophone (Tenor)
Neal Creque Organ, Piano, Piano (Electric)
Don Pate Bass, Bass (Electric)
Cornell Dupree Guitar (Electric)
Bernard Purdie Drums
Baba Feme Conga, Percussion
Albertine Robinson Bass, Vocals
Stanley Clarke Bass
John Blair Violin, Vitar
Tasha Thomas Vocals
Larry Coryell Guitar (Electric)
John Eckert Trombone
Gordon Edwards Bass (Electric), Guitar (Bass)
Gene Golden Conga
Dick Griffin Trumpet
Lani Groves Vocals
Carl Hall Vocals
Hilda Harris Vocals
Jesse Kilpatrick Drums
Airto Moreira Drums
Cecil Payne Saxophone (Baritone)
Download:
filesonic.com
wupload.com
Информация
Посетители, находящиеся в группе Гости, не могут оставлять комментарии к данной публикации.