Meade Lux Lewis - 1946-1954 (The Chronological Classics, 1401) (2005)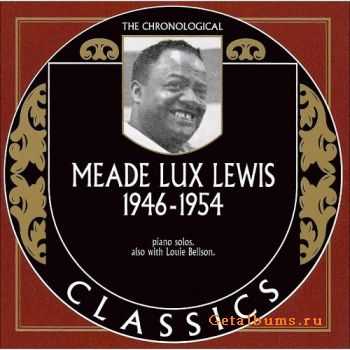 Artist
: Meade Lux Lewis
Title Of Album
: 1946-1954 (The Chronological Classics, 1401)
Year Of Release
: 2005
Label
: Classics
Genre
: Jazz Blues, Boogie-Woogie
Format
: MP3
Quality
: 320 kbps I 44.1 Khz I Joint Stereo
Total Time
: 01:10:02
Total Size
: 152 mb
In 2005 the Classics Chronological Series, in a continuous effort to reissue the complete recordings of boogie-woogie piano ace Meade "Lux" Lewis, released a fourth volume containing material dating from between 1946 and 1954. Opening with a solo Lewis set recorded by Norman Granz for the Mercury label at a Jazz at the Philharmonic concert inside of the Embassy Auditorium in Los Angeles on April 22, 1946, this delightful album also features the work of bassist Israel Crosby and drummer Louie Bellson. These are some of Lewis' very best recordings; the tonal palette is richly varied as he pays homage to his influences and contemporaries in the pantheon of classic blues and boogie-woogie piano. They include Pete Johnson, Albert Ammons, Cow Cow Davenport, Jimmy Yancey, Clarence Pinetop Smith, Hersal Thomas, and Freddie Shayne.
arwulf arwulf, AMG
Tracks:
01 - Medium Boogie (Yancey Special)
02 - Fast Boogie
03 - Slow Boogie (Dupree Blues)
04 - Honky Tonk Train Blues
05 - Jumpin' With Pete
06 - Riff Boogie
07 - Cow Cow Blues
08 - Yancey Special
09 - Honky Tonk Train Blues
10 - Albert's Blues
11 - Pinetop's Boogie Woogie
12 - Mr. Freddie's Blues
13 - Suitcase Blues
14 - Spooney Sam
15 - Mama's Bounce
16 - Shooboody
17 - Hangover Boogie
18 - Yancey's Last Ride
19 - Bush Street Boogie
Personnel:
Meade "Lux" Lewis - Piano, Soloist
Louie Bellson - Drums
Israel Crosby - Bass
Download:
unibytes.com
gigabase.com
turbobit.net
Информация
Посетители, находящиеся в группе Гости, не могут оставлять комментарии к данной публикации.