Dr. John - Locked Down (2012)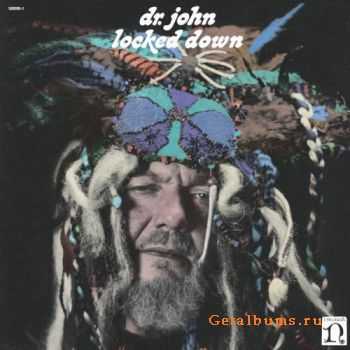 Artist
: Dr. John
Title Of Album
: Locked Down
Year Of Release
: 2012-03-31
Label
: Nonesuch
Genre
: Blues
Format
: FLAC [log,cue,tracks]
Quality
: Lossless
Total Time
: 50:35 min
Total Size
: 264 MB
Tracklist:
01. Locked Down
02. Revolution
03. Big Shot
04. Ice Age
05. Getaway
06. Kingdom of Izzness
07. You Lie
08. Eleggua
09. My Children, My Angels
10. God's Sure Good
Born in 1940, Dr. John is like no other musician. He came to prominence in the late 1960s when his combination of jazz, blues, soul and psychedelic voodoo hit a chord with a crazed America. On albums like Gris-Gris and Gumbo, his 'Dr. John the Night Tripper' persona was backed up with winning tracks, and at least two of his songs, Right Place Wrong Time and I Walk on Gilded Splinters, are acknowledged classics (the later having fallen victim to both Humble Pie and Paul Weller). After struggles with heroin, the former Mac Rebennack has enjoyed several career revivals and has also appeared on a lot of other people's records – he is possibly the only musician ever to have played on records by both Hugh Laurie and Spiritualized.
Now, at a time when most acts are looking wistfully at either nostalgia tours or bed, Dr. John finds himself the subject of a cool reboot, that stalwart tactic of the heritage music industry. This time, his collaborator is not one of the usual tribute crew – Elvis Costello, Dave Stewart or one of several familiar middle-aged hipsters – but the relatively young and happening Dan Auerbach from the modernist blues band The Black Keys. Best of all, Auerbach is interested neither in providing pastiches of Dr. John's old sound nor weighing it down with misguided over-contemporary tricks; Locked Down is an unusual album, clearly based in the 21st century with its jagged guitars, staccato beats and stark production, but it's also true to the spirit of the artist on its cover, being mean, lean and funky.
At times the Doctor sounds like Captain Beefheart or Tom Waits, two acts he's clearly influenced, while at others he's a spectacularly scathing vocalist on songs like Revolution and Ice Age. The anger that fuelled his Hurricane Katrina EP, Sippiana Hericane, is still present, as is the sense of menace behind his best recordings. Always there's the experience of almost 50 years as a recording artist in this music. The voice is still there, as is the attitude, and Auerbach has done an excellent job bringing an artist who will never be out of date into the 21st century.
Информация
Посетители, находящиеся в группе Гости, не могут оставлять комментарии к данной публикации.