Elvin Bishop - She Puts Me In The Mood (2012)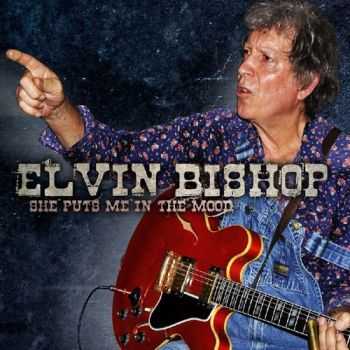 Artist
: Elvin Bishop
Title Of Album
: She Puts Me In The Mood
Year Of Release
: 2012-11-12
Label
: Alligator Records
Genre
: Blues
Quality
: FLAC
Total Time
: 56:35 min
Total Size
: 335 MB
Tracklist:
1. I'm Gone
2. Middle Aged Man
3. Long Shadows
4. Home Of The Blues
5. Think
6. Another Mule Kickin' In Your Stall
7. Ace In The Hole
8. Kissing In The Dark
9. Don't Let The Bossman Get You Down
10. Come On In This House
11. Devil's Slide
12. She Puts Me In The Mood
13. Midnight Hour Blues
14. Honest I Do
15. Slow Down - Elvin Bishop & Little Smokey Smothers
16. The Skin They're In - Elvin Bishop & Little Smokey Smothers
Guitarist/vocalist/songwriter Elvin Bishop has been singing and recording his rollicking brand of electrified Blues for almost 40 years. Bishop's history-making tenure as a founding member of the Paul Butterfield Blues Band in the 1960s, his chart-topping hits in the 1970s, and his emergence on Alligator Records in the late 80's and into the 90's place him at the forefront of electric Blues guitarists. Whether playing deep down gutbucket Blues in long gone smoky South Side Chicago clubs, or R&B in raucous roadhouses, or later, rollicking good time Rock & Roll at festivals, or during sessions in the studio, Elvin Bishop has always injected profound passion into his music; his performances and his recordings. A uniquely creative spirit; he's an exceptional guitarist, a talented songwriter, and sly humorist; reasons enough why Elvin Bishop became and has remained until today one of the most respected and treasured artists to come out of the 60's Blues-Rock explosion. All 16 tracks on this She Put Me In The Mood compilation were culled from Bishop's Alligator Records releases, which at the time of their original release received consistent critical acclaim as well as enjoying commercial success.
Информация
Посетители, находящиеся в группе Гости, не могут оставлять комментарии к данной публикации.