Allyn Ferguson - Pictures at an Exhibition: Framed in Jazz (1963)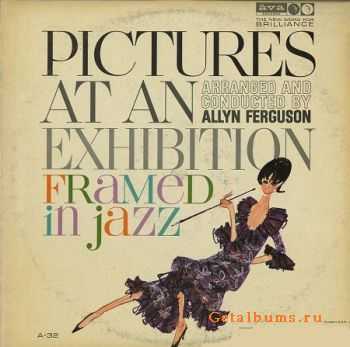 Artist
: Allyn Ferguson
Title Of Album
: Pictures at an Exhibition: Framed in Jazz
Year Of Release
: 1963
Label
: Discovery
Genre
: Jazz
Format
: MP3
Quality
: 320 kbps I 44.1 Khz I Joint Stereo
Total Time
: 00:29:31
Total Size
: 67 mb
Since Modest Mussorgsky's piano suite has been orchestrated by numerous classical composers (the best known is Maurice Ravel's version), it has been given a dubious rock treatment by Emerson, Lake & Palmer and played on synthesizer by Tomita, so why not a jazz big band version? It turns out that bandleader Allyn Ferguson beat both ELP & Tomita to the punch, but his master tape lay forgotten in a vault for nearly 27 years, finally being released in 1989. Anyone familiar with the original work who loves big band jazz should enjoy this delightful CD. The guest soloist is alto saxophonist and flautist Paul Horn, long before his switch to new age solo outings. Bud Shank, Bill Perkins, John Pisano, and Howard Roberts are also in the band, but the focus is upon Ferguson's swinging charts for the most part. The musical interlude "Promenade," "The Ox-Cart," and "The Old Witch" show how well Ferguson can convey the mood of the original works in a jazz setting. The remaining tracks by the Chamber Jazz Sextet include a mix of standards and originals, but should be considered a bonus to the main attraction. Warning: this CD should not be played in front of snobby classical purists! ~ Ken Dryden, All Music Guide
Tracks:
01. Pictures at an exhibition (promenade)
02. The gnome
03. The old castle
04. The tuileries
05. The oxcart (bydlo)
06. Ballet of the unhatched chicks
07. The rich and the poor
08. The market place
09. The catacombs
10. The old witch (the hut of baba-yaga)
11. The great gate of kiev
Personnel:
Allyn Ferguson, Paul Horn, Jules Chaikin, Ollie Mitchell, Stuart Williamson, Jack Feierman, John Audino, Lew McCreary, Bob Edmondson, Vern Friley, Kenny Shroyer, Bob Knight, Dick Gould, Bud Shank, Bill Perkins, Jack Nimitz, Bill Hood, Tommy Tedesco, John Pisano, Howard Roberts, Don Bagley, Frank Capp
Download:
filesonic.com
unibytes.com
Информация
Посетители, находящиеся в группе Гости, не могут оставлять комментарии к данной публикации.