дир. Валерий Гергиев - Н.А.Римский-Корсаков - Садко (2009)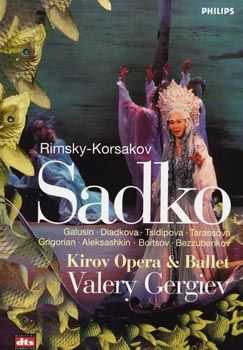 Исполнитель:
дир. Валерий Гергиев
Альбом:
Н.А.Римский-Корсаков - Садко
Год выхода: 2009
Страна: England
Жанр: opera
Время: 2:54:27
Качество: DVDRip/AVI
Размер: 1,27 Гб
Треклист:
Качество: DVDRip
Формат: AVI
Видео кодек: DivX
Аудио кодек: AC3
Видео: 640x352, 29.970 fps, 818 kbps avg
Аудио: 48 kHz, 2ch, 224.00 kbps avg
Размер: 1,27 Гб
Sadko - Vladimir Galusin
Volkhova - Valentina Tsidipova
Lyubava Buslayevna - Marianna Tarassova
The Varangian Merchant - Bulat Minjelkiev
The Venetian Merchant - Alexander Gergalov
The Indian Merchant - Gegam Grigorian
Ocean-Sea, the Sea King - Sergei Aleksashkin
Nezhata - Larissa Diadkova
Foma Nazarich - Evgani Boitsov
Duda - Vladimir Ognovienko
The Old Pilgrim - Nikolai Putilin
Minstrels - Tatiana Filimonova
Jesters - Liudmila Kassianenko, Svetlana Volkova
Soothsayers - Yury Dolgopolov, Valery Sobanov
The Gold Fishes - Alla Dmitrieva, Nonna Shestakova
Kirov opera, orchestra and ballet, Mariinsky theatre, St Petersburg
con. Valery Gergiev
Director for Television - Brian Large
Total time - 2:54:27
Информация
Посетители, находящиеся в группе Гости, не могут оставлять комментарии к данной публикации.