Francesca Caccini - O Viva Rosa (2010)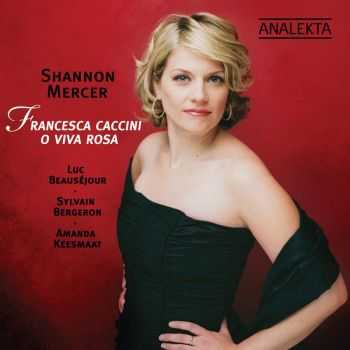 Artist
: Francesca Caccini
Title Of Album
: O Viva Rosa
Year Of Release
: 2010
Label
: Analekta (AN 2 9966)
Genre
: Classical, Neo-Classical, Vocal
Quality
: FLAC (image+.cue+log)
Bitrate
: Lossless
Total Time
: 01:01:52
Total Size
: 286 MB (Covers)
WebSite
:
Amazon.com
This group of songs by Francesca Caccini is a set of lovely, multi-faceted miniatures. Their length is the only thing about them that's small though. The melodic lines are straightforward but laced with nuances. The vocal passages are often long and place great demands on the singer's breathing technique. The melodic character of the individual songs is a complex mixture of emotional hues. The expressions the songs convey are full and rich.

There's no shortage of highlights. The opening track 'O vive rose' ('Oh Bright Roses') is a brightly coloured canzonetta (short light vocal piece) that sounds as fresh as it would have the first time it was heard. 'Non so se quel sorriso' ('I Don't Know if That Smile') is a radiant canzonetta that evokes smiles. 'Lo veggio i campi verdeggiar fecund' ('I See the Fertile Fields Turn Green') is a lovely but subdued instrumental piece played on the cello and theorbo. 'Se muove' ('If He Decides to Take the Oath') is a vibrant canzonetta with a reflective character. 'Dolce Maria' ('Sweet Maria') is a lovely Madrigal as is 'Regina Celi'. The 'hallelujah' passages in that number are particularly exquisite. 'O chiome belle' (Oh Beautiful Hair') is a delight. The aria 'Su le plume de' vent trionfator' ('On the Wings of the Winds Triumphant') is positively delicious. 'Fresche aureate' ('Fresh Breezes') the canzonetta that closes the set is literally that; a fresh breeze.

The songs seem to be very specific in their intent. My personal favourite in the set, Sio men vò' ('If I Leave'), is a lovely piece that sounds exactly like what the title suggests it is; a threat from a woman who's about to end a relationship. I'm guessing (because the lyrics don't seem to be posted on Analekta's site) but the expression formed by the melody, tempo, instrumental arrangement, and especially (Shannon) Mercer's handling of the vocal is unerringly direct. She sounds angry. She sounds frustrated. Her voice voice is filled with a threat that's unmistakeable. Many contemporary writers could take a page from Caccini's book when it comes to this facet of writing songs.

Shannon Mercer, Luc Beauséjour, Sylvain Bergeron and Amanda Keesmaat have produced a jewel with this recording. (Shannon) Mercer's singing is clear and luminous. Her handling of the extended passages is nothing short of brilliant. Her vibrato is superbly controlled and she never shows any strain. The instrumental arrangements are models of sparseness and subtlety. They're always prominent but great care was obviously taken to insure they didn't subvert the vocal lines. The quality of the recording itself is very good. The musical balance established by the order of the tracks is excellent. The music itself is stunning. And it's even more stunning the tenth or fifteenth time it's heard than when it's first listened to. (Francesca) Caccini was obviously a phenomenally talented composer whose work deserves more notice than it's been given. Hopefully this recording will help to change that.
Amazon
Tracklist:
[01] O vive rose
[02] Non so se quel sorriso
[03] Rendi alle mie speranza il verde
[04] Io veggio i campi verdeggiar fecondi
[05] Se muove
[06] Dolce Maria
[07] Lasciatemi
[08] S'io men vo
[09] Regina celi
[10] Dov'io credea le mie speranza vere
[11] Ch'Amor sia nudo
[12] O chiome belle
[13] Io mi distruggo
[14] Te lucis ante terminum
[15] La pastorella
[16] Giulio Caccini: Quattro Canzoni di mio padre
[17] Su le piume de'venti trionfator
[18] Fresche aurette
*******************************
Shannon Mercer - soprano
Sylvain Bergeron - guitar, theorbo
Amanda Keesmaat - cello
Luc Beauséjour - harpsichord, organ
Download / Скачать:
Unibytes.com
Gigabase.com
Share4web.com
Turbobit.net
Информация
Посетители, находящиеся в группе Гости, не могут оставлять комментарии к данной публикации.