Nelson Freire - Brasileiro (2012)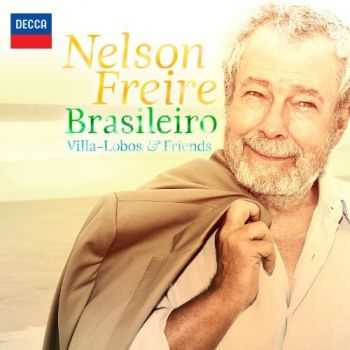 Artist
: Nelson Freire
Title Of Album
: Brasileiro
Year Of Release
: 2012
Label
: Decca
Genre
: Classical
Quality
: 320 / FLAC
Total Time
: 73:23 min
Total Size
: 167 / 209 MB
Tracklist:
1. 1. The Little Pierrot's Pony (O ginête do pierrozinho)
2. 2. The Little Devil's Whip (O chicote do diabinho)
3. 3. Pierrette's Ruse (A manha da pierrete)
4. 4. The Little Domino's Jingle Bells (Os guizos do dominozinho)
5. 5. The Little Ragpicker's Adventures (As peripécias do trapeirozinho)
6. 6. The Coquette's Mischievousness (As traquinices do mascarado mignon)
7. 7. The Fife of a Precocious Daydreamer (A gaita de um precoce fantasiado)
8. Choros No.5 Alma Brasileira
9. A Maré Encheu (Guia Prático)
10. Valsa da dor
11. Saudades das Selvas Brasilieras No.2
12. Pobre cega
13. 14. A Canoa Virou
14. A Lenda do Caboclo
15. Dansa Negra
16. Ponteio No.24
17. Toccata
18. Valse Lente
19. Tango Brasileiro
20. Minha Terra
21. 1. Allegro con brio
22. 2. Moderato
23. 3. Allegro scherzoso
24. 2. O Gatinho de Papelao
25. Paulistana No.1
26. Toccata
27. New York Skyline, W407
28. Valse Elegante
29. 1. Maroca
30. Congada
Brazilian pianist Nelson Freire's eagerly awaited new album, Brasileiro: Villa-Lobos & Friends, pays tribute to his country's greatest composer, Heitor Villa-Lobos, upon the 125th anniversary of his birth.
In containing Freire's personal choice of rarely recorded pieces by seven other lesser-known Brazilian composers whose music helped shape his artistic personality during his formative early years, the album also offers a sonic "portrait of the pianist as a young man".
Comprising works that roughly span the seventy or so years of Villa-Lobos's own lifetime, Freire's chosen repertoire chronicles the efforts of three generations of Brazilian composers to forge a recognisably national musical language out of an amalgam of European influences and indigenous folk and popular styles.
In combination with his trademark technical mastery and legendary sense of melodic line, Nelson Freire's quintessentially Latin American temperament and innate sense of rhythmic ease ensure that he brings a uniquely authentic touch to the rarely heard piano music of his native land.
Информация
Посетители, находящиеся в группе Гости, не могут оставлять комментарии к данной публикации.