Eleni Karaindrou - Concert in Athens (2013) Lossless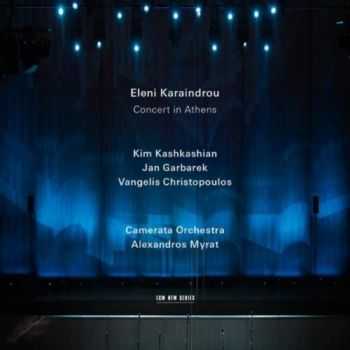 Artist
: Eleni Karaindrou
Title Of Album
: Concert in Athens
Year Of Release
: 2013
Label
: ECM
Genre
: Classical, Orchestral, Jazz
Quality
: FLAC
Total Time
: 54:19 min
Total Size
: 252 MB
Tracklist:
01. Requiem for Willy Loman 3:58
02. Eternity Theme 1:58
03. Closed Roads 5:36
04. Waiting 2:07
05. Voyage 2:10
06. Invocation 2:26
07. Tango of Love 1:41
08. Tom's Theme 1:35
09. Laura's Waltz 3:22
10. Adagio 3:49
11. After Memory 2:45
12. Farewell Theme 4:27
13. Seeking Theme 2:18
14. Nostalgia Song 2:26
15. Waltz of the Rain 2:44
16. Adagio for Saxophone 2:48
17. Dance 3:54
18. Requiem for Willy Loman, var. 4:14
Eleni Karaindrou - piano
Kim Kashkashian - violin
Jan Garbarek - tenor saxophone
Vangelis Christopoulos - oboe
Camerata Orchestra
Alexandros Myrat - conductor
An exceptional live recording, "Concert In Athens", the tenth ECM release by Greek composer Eleni Karaindrou, incorporates moving performances by guests Kim Kashkashian and Jan Garbarek. The US violist and the Norwegian saxophonist have each made important contributions to Karaindrou's music in the past, Garbarek with his playing on the film-score for The Beekeeper (see "Music for Films") and Kashkashian as the key musical protagonist of "Ulysses' Gaze". Themes of both those films are revisited here, amongst much that is new. A primary emphasis is music written for theatre: the wide-reaching emotional scope of pieces for plays by Arthur Miller, Tennesee Williams and Edward Albee provides a wonderful context for bringing the guest musicians into contact with Eleni's soloists, above all the brilliant oboist Vangelis Christopoulos.
Информация
Посетители, находящиеся в группе Гости, не могут оставлять комментарии к данной публикации.