Anal Jackson - Demo #1 (1993)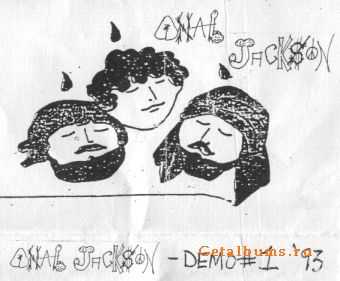 Исполнитель:
Anal Jackson
Альбом:
Demo #1
Год выхода: 1993
Страна: Canada
Жанр: NoiseGrind
Время: 20:41
Качество:
[email protected]
kbps
Размер: 33,2 Mb
Треклист:
01. Nice Posers (N. D.)
02. Fuck Off Rip Off (Seraphic Decay)
03. Noise Is Not Money (A. C.)
04. Monday Sucks (Garfield Said So)
05. Psychoslaughter Records Keeps My Cash
06. All Bands Who Turn Commercial: Fuck Off
07. From HC To Death Metal: S. O. B.
08. Napalm Death: From Anticapitalism To Total Commercialism
09. Answer Fast Or Rot
10. Male Or Female?
11. Antarctica Has More Grind Bands Than Quebec City
12. A. C. + Earache?... What A Joke!!
13. Eat My Smegma Cheeze
14. Doom Is No More (Deche-Charge)
15. Noise's Not Dead
16. Michael Jackson's Hermaphrodite
17. Drink The Bowl Of Piss
18. The Anal Experience
19. Fuck Zines Who Want Free Tapes And Don't Send An Issue When It's Out
20. Drop Dead (Janet's Fave Band)
21. Anal Jackson
22. Piss Comics Rules
23. Seraphic Decay Lives Up To It's Name
24. Shit I Forgot To Plug The Distortion On My Guitar So Now This Fucken Song Sounds Like The Unplugged Ep By The Now Sell Out Posers A. C.
25. Michael, You're Such A Dick
26. Ha! Ha! Ha! Ha! Ha! Ha! Ha! Ha! Ha! Ha! (Earache)
27. Crust (Earth Ruler)
28. You Piss On Slayer That Turn Death Metal, Fuck S. O. B.
29. Stevo Rhymes With Impetigo
30. Jackson's Mother Is A Bitch
31. Bad
32. Janet Jackson Loves The Taste Of A Hermaphrodite
33. Charlie Infection's Glasses
34. I Will Burn Down Morrisound
35. Splatterreah's Drummer Loves Everyone
36. Agathocles Slowed Down
37. Jackson Five
38. Barney, You're Dead!!
39 Jackson's Not Dead
40. We Love The Jackson's Family
41. When Will E. N. T. Sell Out?
42. Postage Sucks
43. Utopia Jackson
44. Wanna Have Some Fun? Hang Yourself
45. David Koresh Was My God
46. The Jacksons Need More money
47. I Wanna Sign On Atlantic Records
48. Who Farted?
49. She Doesn't Suck, She Only Swallows
50. Hellnation (Dionnoises Fave Band)
51. I Need Money (Please Jacksons Send Some)
52. I Love To Barf
53. Fuck You Racist
54. Beat It
55. Hey
Информация
Посетители, находящиеся в группе Гости, не могут оставлять комментарии к данной публикации.