VA - Shapes 11:01 (2011)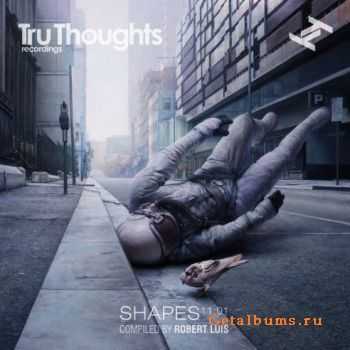 Artist
: VA
Title Of Album
: Shapes 11:01
Year Of Release
: 10.10.2011
Genre
: Lo-Fi
Label
: Tru Thoughts
Catalog #
: TRUCD239
Quality
: 320 Kbps
Tracks
: 28
Time
: 132:28 min
Size
: 280 MB
Tracklist:
1.01 Lanu - Roosevelt Blues feat. Megan Washington
1.02 Anchorsong - Plum Rain
1.03 Nostalgia 77 - Mockingbird
1.04 Hidden Orchestra - Dust
1.05 Belleruche - Northern Girls
1.06 Lossy - Rain Came Down
1.07 Benji Boko - Glider
1.08 Maddslinky - Hiding Place feat. Tawiah
1.09 Kinny - Lost Baggage
1.10 Quantic Presenta Flowering Inferno - Portada Del Mar
1.11 Smerins Anti-Social Club - Dr. Who feat. Tenor Fly
1.12 Quantic Y Su Conjunto Los Miticos Del Ritmo - Nuthin But A G Thing (Dre En Cumbria)
1.13 Freddie Cruger and Anthony Mills are Wildcookie - Serious Drug
1.14 Belleruche - Backyard (Kidkanevil Remix)
2.01 Zed Bias - Trouble In The Streets feat. Mark Pritchard
2.02 Saravah Soul - Mestico (Debruit Remix)
2.03 Mark de Clive Lowe - Push feat. Bembe Segue & Nia Andrews
2.04 Hint - Give It Up feat. Josie Stingray & 1-O.A.K (Hint Club Mix)
2.05 Nirobi - Your Failure\'s Gone To Your Head
2.06 Quantic & His Combo Barbaro - Un Canto A Mi Tierra (J Boogie Remix)
2.07 Lanu - Mother Earth feat. Aloe Blacc & Quantic
2.08 Beta Hector - Jupiter Mission
2.09 Lossy - You Could Feel
2.10 Hidden Orchestra - The Windfall (Maddslinky Remix)
2.11 Lanu - Fall feat. Megan Washington (Hint Remix)
2.12 Randomer - Be Electric
2.13 Maddslinky - 50 Shades Of Peng feat. Skream
2.14 Hint - Here\'s Another One
The new bi-annual Shapes compilation from Tru Thoughts Recordings is coming out in october and once again it's full of classic tracks, new signatures and exlusives for a very cheap price tag. The first CD is a nice selection of horizontal grooves, songs & electronica from the vast palette of style from the label's recent output. Among the discoveries : new signings Anchorsong from Japan, and his trippy live downtempo music, Lossy from East London, a duo of jazz-infused electronica, groovy, soulful and uplifting trip hop, a new track from songstress Kinny, the kind of perfect sweetness for the ears to rub yourself into, the glorious reggae interpretation of the Dr Who Theme by the Smerins Anti-Social Club (only available on a strictly limited 45 for record store day before) and of the Dr. Dre hit Nuthin' But A 'G' Thing cover in cumbia mode by Quantic Y Su Conjunto Los Miticos Del Ritmo (only available on a limited Serato 12 inch before). The second disc is a more clubby, uptempo affair, with a tendancy towards crunchy or bassy speed-ambient. Among the notable new stuff are the afro-wobbly remix by Débruit of Saravah Soul is killer bouncy electro deconstructivism, Hint bringing hard to describe, crazy & addictive dance thingies to the table, and label honcho Rob Luis alias Nirobi who's also there with his heavy bass and percussive dancefloor beats to rock the roof off.
Информация
Посетители, находящиеся в группе Гости, не могут оставлять комментарии к данной публикации.