Dimlite - Grimm Reality (2011)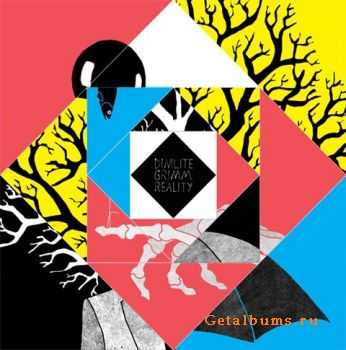 Artist
: Dimlite
Title Of Album
: Grimm Reality
Year Of Release
: 22-11-2011
Label
: Now-Again / NA5086
Genre
: Electronic / Experimental / Jazz
Format
: mp3
Quality
: 320 kbps
Total Time
: 56:10 min
Total Size
: 125 MB
Tracklist:
1. You Very Rich Believer.
2. Pour Some Blood, We Got This.
3. Blur, Blur, Blur, Blur.
4. Healing A Random Tyrant.
5. New, Better Pain
6. Yes, Welcome
7. XY
8. Through The Grimms / Stars Down
9. Than Them
10. Fridge Note
11. One Of Uh Infinity's Uh Countless Uh Tiny Cycles
12. Heroine Roof
Dimlite s two EPs for Now-Again, Prismic Tops (2009) and My Human Wears Acedia Shreds (2010), captured an artist in flux: a producer fleeing from his loosely hip-hop, jazz and electronica-infused early material and towards a more realized world of sound. With Grimm Reality, Dimlite incorporates the techniques and artistic attitude of two of his alter-egos (Misel Quitno, a fanatic in low-fidelity electro-acoustic composition; the Slapped Eyeballers, a two-headed, world-rock-folk combo) to color a progressive sonic vision. Titling his third album Grimm Reality might seem to point to a new autobiographical streak in this Swiss producer/electronic musician, but that would be too simple. It s up to the listener to piece together a version of Grimm s reality from mere hints: the wistful romance of XY, the tension and release of New, Better Pain and so on through every perfectly poised moment on this record. Likewise, looking for the remains of a hip-hop influence, or a connection to what's happening on modern-day dance floors, won t yield much here. The precedents that spring to mind are all cherished outsiders Neu, The Residents, Beefheart, Philip Glass - footnotes in mainstream music history but, in an altogether preferable parallel universe, titans of the recent past. This isn't the patchwork of a tasteful record collector though Dimlite eschews samples entirely, imbuing his music with the spirit of his heroes but never once grabbing for their sound. In so doing, he creates music that is highly singular and despite its relatively ancient influences altogether new.
Информация
Посетители, находящиеся в группе Гости, не могут оставлять комментарии к данной публикации.