Filthy Huns - Filthy Huns (2013)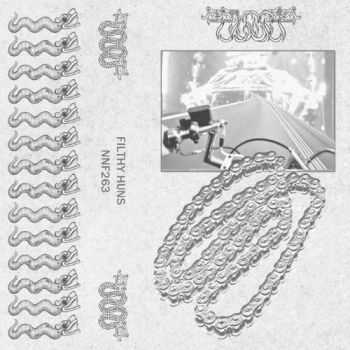 Artist
: Filthy Huns
Title Of Album
: Filthy Huns
Year Of Release
: 2013-01-14
Label
: NOT NOT FUN / NNF263
Genre
: Experimental, Electronic
Quality
: FLAC
Total Time
: 36:27 min
Total Size
: 138 MB
Tracklist:
1. Sun Rider 1:27
2. So Gold 3:07
3. Hot Morning 5:31
4. Out of the Grave 4:40
5. All My Friends Make the Best Music 4:10
6. Watch of the Bear 6:05
7. Infinite Ride 3:44
8. Desert Chills 4:41
9. Lords of Speed 3:02
If the 72-years-strong annual Sturgis motorcycle rally in South Dakota ever felt like mixing shit up and opening its chain-link fences to some more busted, broke-down musical entertainment (instead of the usual legions of George Thorogood cover bands), Filthy Huns – the custom-built solo vehicle of Nick Koenigs – would be a fine choice. Cheap, grease-stained drum machine rhythms, desolate highway guitar lines, reverbed keyboard loops, and road-burned vocals cruise like a midnight rider through dead, dusty towns in the Black Hills. "Watch Of The Bear" in particular is total loner-in-leather, headlight off, pushing 70, chasing the voided horizon under a sea of stars. It's not all Hell's Angels-y ghost-riding though; there's some cool detours, too, like the woozy, hungover dub of "Hot Morning," the 4AM campire peyote-float, "Infinite Ride," and the stoned sunshine raga, "Out Of The Grave." Recorded half in Minneapolis and half in Echo Park, CA across a nearly two-year window. - not not fun
Информация
Посетители, находящиеся в группе Гости, не могут оставлять комментарии к данной публикации.