Ibiza Del Mar - Erotica Vol. 3 - Sunset Time Sex Cafe (2012)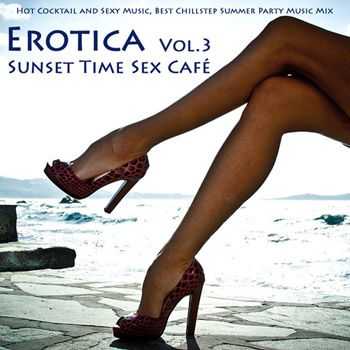 Artist:
Ibiza Del Mar
Title Of Album:
Erotica Vol. 3 - Sunset Time Sex Cafe - Hot Cocktail and Sexy Music, Best Chillstep Summer Party Music Mix (compiled By Sexy Lounge Music Beach House DJ)
Year Of Release:
May 6, 2013
Label:
Aqua Purha
Genre:
Electronic, Chillstep, Nu Jazz, House, Lounge, ChillOut
Quality:
mp3 | Stereo
Bitrate:
320 kbps | 44.1 Khz
Total Time:
01:54:43
Total Size:
289.98 mb
Tracklist
---------
01. So Hot Summer
02. Oriental Music Shades (Zen Bar Music)
03. Ethnic Dream (Chillstep Party Music)
04. Sex Dreams (Love Making Music to Create Atmosphere)
05. Mood Music, Summer Groove
06. Sensual Music Atmosphere
07. Rhythm of Sex
08. Sexy Girls (Erotic Music Backgrounds)
09. Lounge Music Shades
10. Love Hunger (Café del Pecado at Sueño del Mar Beach Bar)
11. Ibiza Party (Best Liquid Dubstep for Beach Party at Sunset Time)
12. Nomad Mind (Road Trip Songs for Freedom Desire)
13. Inhibitions Flirt (Pool Party Music)
14. Rhythm of Love (Summer Party Soundtrack)
15. People from Ibiza
16. Paradise Lounge at Circus Café (Beach Bar Music Dj Space del Mar)
17. Emotional Response
18. Lightness (Liquid Dubstep Mix)
19. Gentle Fantasy of Mr Hed (Mood Music at Kandi House)
20. Purple Shades
21. Summer of Love (Royalty Free Opening Party Music Party)
22. Liquid Dubstep (Cocktail Music Party on the Beach)
23. Summer Nights from Ibiza 2013
24. Adventure Need (Road Trip Music)
25. Blue Shades (Beach Party Music at Sunset Time)
26. Sexy & Wild
27. Kisses from Ibiza (Ibiza Party 2013 Summer Soundtrack)
28. Chillstep Summer Dreams
29. Sexy Music
30. Dangerous Mind (Sexy Music Bar)
Информация
Посетители, находящиеся в группе Гости, не могут оставлять комментарии к данной публикации.