VA - Ministry Of Sound: Jungle Classics (2011)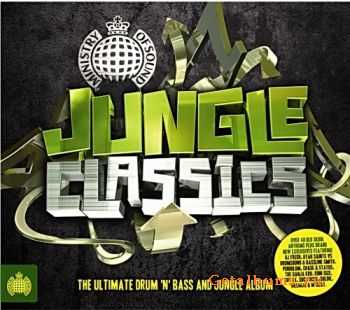 Artist
: VA
Title Of Album
: Ministry Of Sound: Jungle Classics
Year Of Release
: 2011
Label
: Ministry Of Sound
Genre
: Drum 'n' Bass/Jungle
Quality
: MP3
Bitrate
: 209 kbps avg
Total Time
: 04:09:12
Total Size
: 371mb
WebSite
:
ministryofsound
Tracklist
:
Disc 1
UK Apachi & Shy Fx - Original Nuttah
M Beat Ft General Levy - Incredible
Ganja Kru - Super Sharp Shooter
Ray Keith - Chopper (Shy FX Mix)
DJ Zinc - On Fire Tonight
Adam F - Original Jungle Sound (Switch Remix)
Urban Shakedown - Some Justice '95 Arsonist
Origin Unknown - Valley Of The Shadows
DJ SS - The Lighter
Dopeskillz - 6 Million Ways To Die
Deep Blue - The Helicopter Tune
DJ Hype feat Ganja Max - Rinse Out
Goldie Presents Rufage Kru - Terminator
Alex Reece - Pulp Fiction
Roni Size - It's Jazzy
Krust - Warhead
Q-Project - Champion Sound (Alliance Remix)
Dillinja - Grimey
DJ Fresh - The Gatekeeper
Omni Trio - Renegade Snares (Foul Play VIP Mix)
DJ Krome & Mr Time - The License
Blame - Music Takes You
Disc 2
Utah Saints & Drumsound & Bassline Smith - What Can You Do For Me (Drumsound & Bassline Smith Remix)
DJ Fresh - Louder (Drumsound & Bassline Smith Remix)
Pendulum - Masochist
Chase & Status Feat. Capleton - Duppy
Katy B - Broken Record (DJ Fresh Future Jungle Remix)
Yasmin ft. Shy FX & Ms Dynamite - Light Up The World (Benny Page Remix)
DJ Marky & XRS - LK
Shimon & Andy C - Body Rock
Dillinja - Twist Em Out
Distorted Minds - T-10 (Dillinja Remix)
Micky Finn & Aphrodite - Bad Ass
Mulder - Dont Give A Damn
Dead Dread - Dread Bass
DJ Hype Ft. MC Fats - Peace, Love & Unity
Shy FX - The Wolf
M Beat Feat Nazlyn - Sweet Love
Prizna Ft The Demolition Man - Fire (Urban Shakedown Remix)
The Terrorist - Renegade
T Power - Mutant Jazz (DJ Trace Mix)
Wots My Code - Dubplate (Total Science Remix)
Sub Focus - Last Jungle
Lennie De Ice - We Are I.E
Информация
Посетители, находящиеся в группе Гости, не могут оставлять комментарии к данной публикации.