M2O Vol.30: The Legend (2012)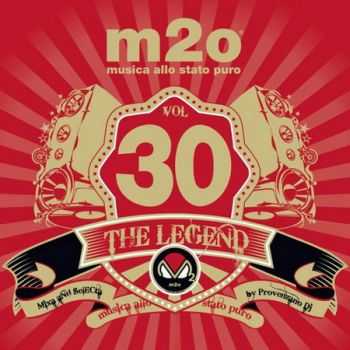 Исполнитель:
VA
Альбом:
M2O Vol.30: The Legend
Лейбел:
Time Italy
Стиль:
Dance, Club
Дата выхода:
26.06.2012
Битрейт аудио:
320 kbps / 44100Hz / Joint Stereo
Продолжительность:
129:49 мин
Треки:
50
Размер:
~458 Мб
Треклист:
CD 1:
01 Intro LIZZY B. feat. DAVIDE BORRI "30th Dance Flight"
02 MORRIS CORTI & EUGENIO LAMEDICA "Put Your Hands Up"
03 SEREBRO "Mama Lover"
04 THE CUBE GUYS "Voilà Voilà"
05 ALEX GAUDINO feat. CRYSTAL WATERS "Destination Calabria" federico scavo remix
06 KYRA KOLE DJ "U Got 2 Let The Music" felipe c remix
07 GUSTTAVO LIMA "Balada (Tchê Tcherere Tchê Tchê)" tacabro remix
08 ALIEN CUT & DINO BROWN "Call Me Up"
09 KAIIA VS MANILLA MANIACS "Crazy Love"
10 TIMATI & P. DIDDY, DJ ANTOINE, DIRTY MONEY "I'm On You" dj antoine vs mad mark remix
11 TI.PI.CAL. feat. JOSH "Could Be You"
12 OCEANA "Endless Summer" cj stone remix
13 ANDREA MASULLO feat. CHAKA BLACKMON "Dream Girl" provenzano remix
14 GURU JOSH "Infinity 2012" dj antoine vs mad mark remix
15 FELIX DA HOUSECAT & COCO DAFOE "Uh Huh"
CD 2:
01 HENRY JOHN MORGAN & PROVENZANO feat. THE AUDIO DOGS "Turn You On"
02 BINGO PLAYERS feat. HEATHER BRIGHT "Don't Blame The Party (Mode)"
03 DADDY'S GROOVE feat. SKIN "Crazy (Wild World)"
04 RUDEEJAY & FREAKS JAM feat. MARIE CLAIRE D'UBALDO "Suenos (Dreams Can Come True)" paolo ortelli vs. degree remix
05 DIRTY SOUTH & THOMAS GOLD feat. KATE ELSWOR "Eyes Wide Open" felguk remix
06 FALASKA CONTEST "I Can Change" provenzano remix
07 DONATI & AMATO "Back In My Arms"
08 THOMAS GOLD "Sing2Me"
09 PHUNKJUMP & CAMILLE JONES "All I Want" formal monkeys remix
10 PHUNKERZ "Change The World"
11 FUCK 'n' SIZE & ALEX ADDEA "Fantasia"
12 PROVENZANO & FORMAL MONKEYS "You're"
13 HARDWELL FEAT. MITCH CROWN "Call Me A Spaceman"
14 RAINBOWLEAD "Cattivik" provenzano & mastro j edit
15 MAX ZOTTI vs DA:ROCK "No Sleep" max zotti & daniel chord original mix
CD 3:
01 intro m2o's TEAM "Le Canzoni Dell'Estate"
02 DJ ROSS "Dreamland"
03 HELLEN "La Musica Che Batte"
04 PREZIOSO & MARVIN "Le Louvre"
05 GABRY PONTE "Depends On You"
06 HOTEL SAINT GEORGE "Figli Delle Tenebre" tenebre mix
07 EMI "Anima Libera"
08 GIGI D'AGOSTINO "Wellfare"
09 ROBY ROSSINI "Tanz Bambolina"
10 BROTHERS "Dieci Cento Mille" prezioso & marvin remix
11 P_ DJ feat. LIZZY B. "Funny Day" roberto molinaro club concept
12 DANIJAY feat. ALBERTO FORTIS "Senza Fretta"
13 ARMIN VAN BUUREN & DJ SHAH feat. CHRIS JONES "Going Wrong" armin van buuren's extended mix
14 TIËSTO feat. CHRISTIAN BURNS "In The Dark"BE ANGEL "Say You Love Me" provenzano+promiseland rmx
15 BE ANGEL "Say You Love Me" provenzano+promiseland rmx
16 MOLELLA feat. ALESSIA D'ANDREA "Paradise"
17 PROVENZANO "Devotion"
18 PROMISE LAND "Push The Feeling On"
19 FEDDE LE GRAND "Put Your Hands Up For Detroit"
20 AXWELL/INGROSSO/ANGELLO/LAIDBACK LUKE feat. DEBORAH COX "Leave The World Behind" ranucci, pelusi, provenzano remix
(video) Provenzano & Formal Monkeys - You're
Информация
Посетители, находящиеся в группе Гости, не могут оставлять комментарии к данной публикации.