Tanecni Liga 148 (2013)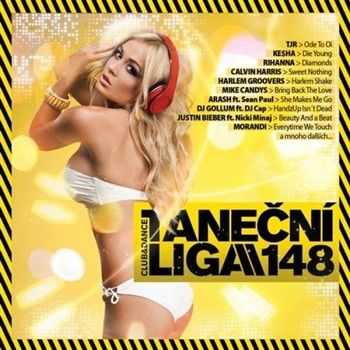 Artist:
VA
Title:
Tanecni Liga 148
Label:
Unuversal Music CZ
Genre: Dance, Club, RnB, Pop
Format: WEB
Rel Date: 2013
Quality: VBR kbps
Tracks:22
Size: 146 mb
Tracklist:
01. TJR - Ode To Oi (Original Mix)
02. HARLEM GROOVERS - Harlem Shake (Radio Edit)
03. CALVIN HARRIS ft FLORENCE WELCH - Sweet Nothing (Radio Edit)
04. KESHA - Die Young (Radio Edit)
05. MIKE CANDYS ft JENSON VAUGHAN - Bring Back The Love (Radio Edit)
06. JUSTIN BIEBER ft NICKI MINAJ - Beauty And A Beat (Wideboys Radio Mix)
07. ARASH feat SEAN PAUL - She Makes Me Go (Mike Candys Radio Edit)
08. MORANDI - Everytime We Touch (Radio Edit)
09. J8CK - Gypsy Woman (Radio Edit)
10. BODYBANGERS ft LINDA TEODOSIU & NICCI - Are You Ready Tonight (Radio Edit)
11. ESTELLO ft PITBULL & ROSCOE UMALI - Till The Stars Come Out (Digital Dog Edit Mix)
12. KTREE ft TONEZ, SNOOP DOGG - Party All Around (David May Original Mix)
13. DJ RAAFY ft SNOOP DOGG - Always (E-Partment Edit Mix)
14. The DISCO FRIES ft NILES MASON - Don't Let Me Down (Radio Edit)
15. WATERFALL ft AKON & PLAY N' SKILLZ - Angel Eyes (U Got Them) (Short Mix)
16. AIRBEAT ONE PROJECT - Snowbeat (Money-G Edit)
17. SUNSHINE STATE ft ONIX LAN & JESSI - El Ritmo (OMG) (Radio Edit)
18. SEAN FINN - Riders On The Storm (Radio Edit)
19. LEONY - Ooo La La La (Video Edit)
20. MEGARA vs DJ LEE - Legacy (Club Edit)
21. DJ GOLLUM ft DJ CAP - HandzUp Isn't Dead (8 Years Technobase.fm Hymn) (Radio Edit)
22. RIHANNA - Diamonds (Dave Aude 100 Edit)
Информация
Посетители, находящиеся в группе Гости, не могут оставлять комментарии к данной публикации.