Water Gun Water Gun Sky Attack - Trouble Sleeping? (2012)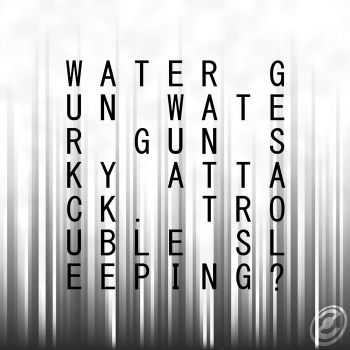 Artist
: Water Gun Water Gun Sky Attack
Title Of Album
: Trouble Sleeping?
Year Of Release
: 2013
Label
: Section Z
Genre
: Electronic, IDM, Experimental, Indie
Quality
: 320 kbps
Total Time
: 45:15 min
Total Size
: 104 MB
Tracklist:
01 .Hardlines Out (02:58)
02. Other Sun (feat Snailhead) (03:16)
03. Eraenwes (06:05)
04. 2nd Sun / Stationary Sun (08:43)
05. -- (feat Mattir) (02:11)
06. Trouble Sleeping? (03:53)
07. Guts of the World (04:50)
08. Makes a Run For It (02:59)
09. Thescape / 1st Sun (09:07)
Water Gun Water Gun Sky Attack is a progression of audio files stitched together by bedroom producer Timothy de Reuse of Denton, Texas, who not only programs and sequences the works but adds guitar, bass, percussion, field recordings, and vocals. In this body of work lies an avalanche of DIY styles mashed together; as a product of a town and state with little of an electronic music scene to their names, the artist relies on not just the last thirty years of development in the IDM genre as influence but also the folk and rock traditions of his hometown and his own schooling as a classical and jazz guitarist.
The result lies somewhere between the most technical IDM of the last decade and a rough, bright, layered style of pop; percussion sputters in complicated patterns, synths dogpile onto one another, and electric and acoustic guitar lines putter softly under it all. Real, meaningful vocals, a rare sight in most IDM, crop up often in a variety of styles to contrast the mechanical rhythms and harsh digital synthesis. Water gun Water Gun Sky Attack seeks to use techniques and tropes from the coldest, most academic and experimental electronic music out there in a setting that can lend them emotion. There is no point to an experiment if its findings are never used.
WGWGSA's past releases include the jaunty and playful Electromagnetics Will Tear Us Apart EP, the depressive and distant Slew, and Decompose, a collaborative concept EP with Filipino vocalist A Problem Like Maria concerning the apocalypse. Trouble sleeping? however, is his most organic work yet, fusing technical, intricate IDM with rough, bright, hazy pop and lyrics about confusion and dreamy contentment, piling on more acoustic instruments and sounds without losing the cerebral nature of his previous works.
Информация
Посетители, находящиеся в группе Гости, не могут оставлять комментарии к данной публикации.