Ian & Sylvia - Four Strong Winds (1964)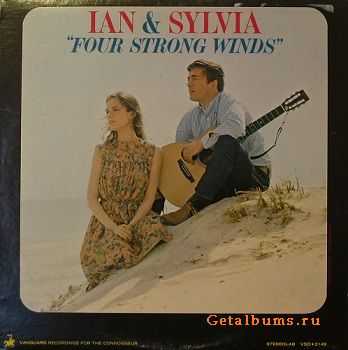 Artist
: Ian & Sylvia
Title Of Album
: Four Strong Winds
Year Of Release
: 1964
Label
: Vanguard
Genre
: Folk Pop, Folk Rock
Format
: MP3
Quality
: 320 kbps I 44.1 Khz I Joint Stereo
Total Time
: 00:40:29
Total Size
: 94 mb
Ian & Sylvia hit their stride on their second LP, which features the first in a line of talented second guitarists (John Herald) they would use to augment their original guitar-autoharp-basslineup. The album featured an assortment of largely traditional material that was unsurpassed in its time, encompassing bluegrass, spirituals, gospel, hillbilly, the French-Canadian standard "V'La L'bon Vent," a British prison song, and two tunes from the Cecil Sharp collection of Southern mountain folk songs of British origin. Two of the most impressive cuts, however, were contemporary compositions. One was their version of Bob Dylan's "Tomorrow Is a Long Time," one of the first obscure Dylan tunes to be committed to vinyl. The title cut, an Ian Tyson original, would prove to be the duo's first song to influence rock musicians, as the Searchers covered it shortly afterwards with a reverent version that was quite close to the original; Neil Young revived it in the late '70s.
Tracks:
01. Jesus Met the Woman at the Well
02. Tomorrow Is a Long Time
03. Katy Dear
04. Poor Lazarus
05. Four Strong Winds
06. Ella Speed
07. Long Lonesome Road
08. V'La L'bon Vent
09. Royal Canal
10. Lady of Carlisle
11. Spanish is a Loving Tongue
12. The Greenwood Sidie (The Cruel Mother)
13. Every Night When The Sun Goes Down
14. Every Time I Feel the Spirit
Personnel:
Sylvia Fricker (arranger, autoharp, guitar, vocals)
Ian Tyson (guitar, vocals)
John Herald (guitar)
Wendell Marshall, Paul Weidman, Eric Weissberg (bass)
Информация
Посетители, находящиеся в группе Гости, не могут оставлять комментарии к данной публикации.