To All My Friends - Ride With Me (2012)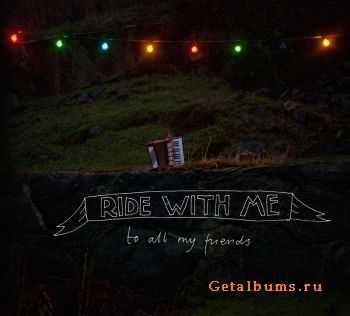 Artist
: To All My Friends
Title Of Album
: Ride With Me
Year Of Release
: 2012-02-14
Label
: Evil Ace Productions
Genre
: Folk / Indie Pop
Format
: FLAC 1.2.1 -8 -V
Quality
: Lossless [743 kbps 44.1KHz]
Total Time
: 37:10 min
Total Size
: 197.62 MB
Tracklist:
1. Ride with Me (2:56)
2. Spinner (3:08)
3. Lonesome Cowboy (5:25)
4. Fears (2:48)
5. Roadkill (3:40)
6. Nightwalks (4:55)
7. Be Gone As Long as You Want (4:29)
8. Are You Ready (3:42)
9. Mountain Song (6:07)
Roadkill, cowboys and mountain tops are some of the things swedish indiefolkpopduo To All My Friends sing about. Accompanied by instruments such as banjo, autoharp, accordion, melodica and guitar they mold beautiful tunes in the storytelling tradition of american folk music and turn it into something of their own, right here and right now. The journey of To All My Friends began somewhere in the southern parts of Sweden when band members Frida Alkestrand and Tove Möller got to know each other through the feminist activist group Radical Cheerleaders, but didn't take form until 2008 when they both found themselves in the city Berlin and started writing songs together. In the summer of 2010 the self titled debut album was released, and since then To All My Friends have made hands clap and hearts melt throughout Sweden and Europe in a seemingly never ending stream of gigs. On valentine's day, february 14th 2012, they release their second album "Ride With Me". During a few stormy, winter weekends 2011/2012 Tove and Frida have taken the train up and down and back and forth to Gothenburg to record this album. And perhaps tried to keep the feeling of being on the road.
Информация
Посетители, находящиеся в группе Гости, не могут оставлять комментарии к данной публикации.