Rocky Votolato - Television Of Saints (Limited Edition) 2CD (2012)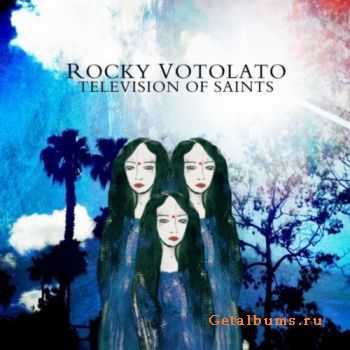 Artist
: Rocky Votolato
Title Of Album
: Television Of Saints
Year Of Release
: 2012-03-16
Label
: Defiance Records
Genre
: Folk / Indie
Format
: mp3
Quality
: 223kbps avg
Total Time
: 47:27 min
Total Size
: 79.65 MB
Tracklist:
Track List: Disc #1/2
01. Little Spring 2:53
02. Ghost Writer 3:14
03. Fool's Gold 3:03
04. Above The Water 3:34
05. Sunlight 3:03
06. Television Of Saints 3:59
07. Start Over 2:40
08. Sparks 3:20
09. Writing Fiction 3:55
10. Crooked Arrows 4:13
Track List: Disc #2/2
01. Let Go 3:21
02. St. Louis 3:45
03. Disguises 3:25
04. Instrument 3:02
In 2006 SeattleТs Rocky Votolato released a record of stripped down,
country-influenced folk called Makers on indie stalwart Barsuk Records. The
album went on to be lauded by both the main stream and indie press, with E!
calling it Уsimply beautifulФ and No Depression declaring it Уsurpassingly
great.Ф In the five years since the recordТs release Votolato has toured the
country nearly endlessly, playing everything from rock clubs to living rooms.
Along the way he released two more albums (2007Тs The Brag & Cuss and 2011Тs
True Devotion), both also critically praised and well received by a steadily
growing group of dedicated fans.
Television of Saints, VotolatoТs newest effort, wears the tracks of those
endless nights on its sleeve Ц yet communicates that hung-over wisdom with a
newfound lightness and maturity. During his time on the road Votolato has
developed a loyal, extremely devoted core group of fans across the US and Europe
that love him for the personal impact his music has had on their lives. Building
off of and inspired by that connection, with this record Votolato has created
something real, classic, and timeless. Hard won truths resonate underneath the
concrete images and visual color splashed throughout the record.
Teaming up with long time friend and producer Casey Foubert (Sufjan Stevens,
Pedro The Lion) and with the help of an outstanding cast of musicians, including
his brothers Sonny (Slender Means) and Cody Votolato (The Blood Brothers,
Telekinesis), Television of Saints delivers on the promise hinted at with
Makers. Lean and to the point, Television of Saints is both VotolatoТs most
intimate and most immediately accessible work to date.
Информация
Посетители, находящиеся в группе Гости, не могут оставлять комментарии к данной публикации.