The Klezmatics - Jews With Horns (1995)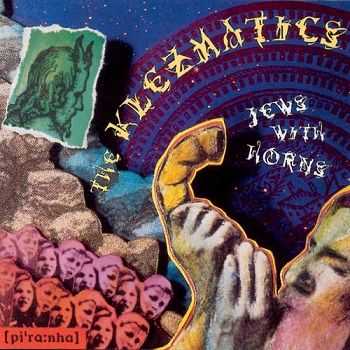 Исполнитель:
The Klezmatics
Альбом:
Jews With Horns
Год выхода: 1995
Страна: USA
Жанр: Gypsy Jazz, Klezmer
Время: 71 min
Качество: FLAC (tracks+.cue)
Размер: 353 MB
Треклист:
01. Man in a Hat (words: David Lindsay; music: traditional/Klezmatics) (2:59)
02. Fisherlid (words: Aliza Greenblatt; music: traditional/London) (8:30)
03. Khsidim Tants (Hassidic dance) (traditional, arranged by Svigals with Krakauer, London, Mandelson) (4:16)
04. Simkhes-Toyre (words: Mark Warshawsky; music: Warshawsky/London) (2:28)
05. Romanian Fantasy (traditional: Svigals with Sklamberg, Krakauer) (4:37)
06. Bulgars/The Kiss (traditional, London, Klezmatics) [Inspired by an ACT UP kiss-in in New York] (6:51)
07. Nign (Sklamberg) [Wordless song of ecstasy in the Hassidic style] (3:30)
08. Honga (traditional, London) (3:18)
09. In Kamf (David Edelstadt, Klezmatics) [One of the most popular Yiddish labor songs, written in America in 1889] (3:25)
10. Doyna (London; Clarinet improsation: Krakauer) (2:20)
11. Freyt Aykh, Yidlekh(Get Happy, Jews) (traditional / London, Klezmatics) (4:58)
12. Kale Bazetsn (Svigals) [The Seating of the Bride] (1:52)
13. Keyser Tartar-Tants (traditional / Klezmatics) [Hot Tartar dance] (6:27)
14. Es Vilt Zikh Mir Zen (poem: Celia Dropkin; music: London) [Celia Dropkin (1888 - 1956), pioneer of the Yiddish in zikh (introspective) poetry movement] (2:17)
15. Overture (London) [with Matt Darriau: alto sax] (1:52)
Personnel:

David Krakauer: clarinet, bass clarinet, vocals
David Licht: drums
Frank London: trumpet, cornet, alto horn, piano, organ, vocals
Paul Morrissett: bass, vocals
Lorin Sklamberg: lead vocals, accordion, piano
Alicia Svigals: violin, vocals

Special Guest:
Matt Darriau: alto sax, background vocals
Информация
Посетители, находящиеся в группе Гости, не могут оставлять комментарии к данной публикации.