Sound Experience - Don't Fight The Feeling (1974)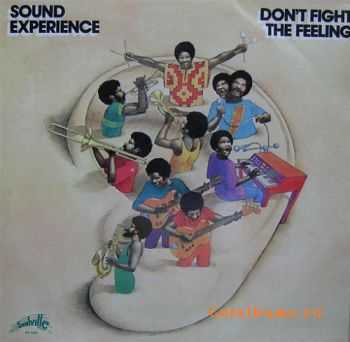 Artist
: Sound Experience
Title Of Album
: Don't Fight The Feeling
Year Of Release
: 1974
Label
: Philly Soulville Records
Genre
: Funk / Soul
Format
: MP3
Quality
: 320 kbps I 44.1 Khz I Joint Stereo
Total Time
: 00:37:16
Total Size
: 85 mb
"Sound Experience was a tight, hard-driving funk ensemble with a flair for up-tempo grooves and aggressive, mind-bending guitar work drenched in fuzz and wah-wah effects. Composed of lead vocalist Arthur Grant, Leroy Frailing, Johnny Groman, Gregory Holmes, James Lindsey, Melvin Miles, Anton Scott, and Reginald Wright, the rather large group formed at Baltimore's Morgan State College in 1970 and quickly built a local following. During the early '70s, the group hooked up with producer Stan Watson and his Philly Groove/Soulville labels, and moved to Philadelphia to record with him. Early sides like "40 Acres and a Mule" and "Blow Your Mind" displayed the influence of early Funkadelic, but by the time of their first album, 1974's Don't Fight the Feeling, their sound was a bit smoother around the edges. The title cut was a minor hit, and "Devil With the Bust" became an oft-sampled breakbeat classic in the years to come; other singles included "You've Broken My Heart" and 1975's "Boogie Woogie." Although their recorded output was limited, Sound Experience enjoyed an enduring cult following among funk collectors; Collectables issued the career overview The Soulville Collection on CD in 1994, and acclaimed director Paul Thomas Anderson used the track "J.P. Walk" in his adult-film saga Boogie Nights."
Tracks:
1. Your Love Belongs To Me (3:44)
2. Can I Be Your Lover (3:05)
3. This World Is Really Mine (5:39)
4. Step People (3:26)
5. Don't Fight The Feeling (3:16)
6. Going Through The Motions (3:55)
7. You've Broken My Heart (3:41)
8. You Don't Know What You're Doing (4:57)
9. Devil With The Bust (5:33)
Download:
filesonic.com
wupload.com
Информация
Посетители, находящиеся в группе Гости, не могут оставлять комментарии к данной публикации.