Eddie Bo - Hook And Sling (1997)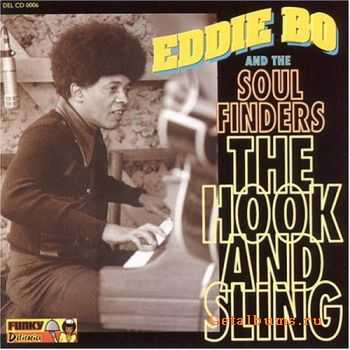 Artist
: Eddie Bo
Title Of Album
: Hook And Sling
Year Of Release
: 1997
Label
: Funky Delicacies
Genre
: Funk, New Orleans R&B
Format
: MP3
Quality
: 192 kbps I 44.1 Khz I Joint Stereo
Total Time
: 00:50:34
Total Size
: 68 mb
"A sorely underappreciated veteran of the New Orleans R&B scene, singer/songwriter/producer/pianist Eddie Bo evolved into one of the city's foremost funk players during the late '60s and early '70s, although he never had a national hit commensurate with his musical standing. Born Edwin Joseph Bocage on September 20, 1930, Bo was raised in the Algiers and Ninth Ward sections of New Orleans by a musical family; uncles Peter and Charles and cousin Henry all played in post-WWI jazz orchestras (including A.J. Piron's), and his mother was a pianist in the Professor Longhair style. Bo served in the Army after high school, and returned to New Orleans to study at the Grunewald School of Music, where he discovered bebop pianists like Art Tatum and Oscar Peterson. He started playing around the jam-heavy New Orleans jazz scene, but soon discovered that R&B was more popular and accessible, not to mention better-paying. He joined the house band at Club Tijuana under the name Spider Bocage, and later formed the Spider Bocage Orchestra, a professional backing band that supported many prominent blues and R&B artists of the day, including Ruth Brown, Earl King, Lloyd Price, Big Joe Turner, Smiley Lewis, and Guitar Slim."
allmusic.com
Tracks:
01. Hook & Sling (3:40)
02. Sissy Walk (5:07)
03. If It's Good To You It's Good For You (5:07)
04. Check Your Bucket (4:53)
05. How Sweet It Is (3:09)
06. The Thang (Part 1) (2:50)
07. Funky Jam (2:54)
08. Hey Mama Here Comes The Preacher (2:40)
09. Funky Yeah (2:29)
10. Eddie's Rubber Band (2:54)
11. Love Has Been Good (2:35)
12. Just Wonder (3:43)
13. The Thang (Part 2) (3:04)
14. That Certain Someone (2:53)
15. Come To Me (2:36)
Download:
filesonic.com
wupload.com
Информация
Посетители, находящиеся в группе Гости, не могут оставлять комментарии к данной публикации.