Harvey Mason - Funk in a Mason Jar (1977)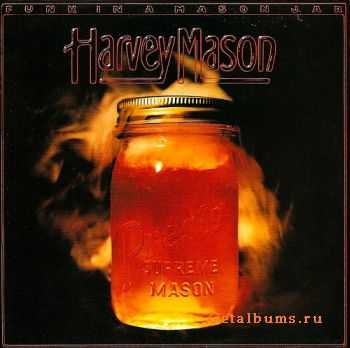 Artist
: Harvey Mason
Title Of Album
: Funk in a Mason Jar
Year Of Release
: 1977
Label
: Arista
Genre
: R&B, Funk, Smooth Jazz
Quality
: FLAC (Image)+CUE, LOG
Total Time
: 00:41:29
Total Size
: 235 mb
Smooth soulful jazz from Harvey Mason – one of his strong 70s winners for the Arista album, and a record that really brings a new level of class to his sound! There's less of the grit in the grooves than you might expect from the down-home reference of the title – and in a way, the record's a similar shift to well-produced R&B as Michael Henderson or Norman Connor's work from the same time – a soaring, fluid groove that's still supported by solid jazz instrumentation, but which also has a nice dose of soul in the mix! Players here are a real all-star lineup – with talents that include Dorothy Ashby, George Benson, Ronnie Foster, Bob James, and Phil Upchurch – and most cuts have vocals, by The Waters and others. But possibly best of all is the production – which is by Harvey, and really wonderful – sophisticated and smooth, but never slick – a really careful balance that really puts him right up there with Norman Connors or Roy Ayers! Titles include "Pack Up Your Bags", "Till You Take My Love", "Funk In A Mason Jar", "What's Going On", "Set It Free", "Space Cadets" and "Freedom Either Way". © 1996-2010, Dusty Groove America, Inc.
Tracks:
1. Pack Up Your Bags [Mason, Scarborough, Wilson] (5:13)
2. Till You Take My Love [Foster, Mason] (3:42)
3. Space Cadets [Grusin, Mason, Parker] (3:35)
4. Freedom Either Way [Mason] (3:36)
5. Funk In a Mason Jar [Mason] (1:56)
6. What's Going On? [Benson, Cleveland, Gaye] (8:31)
7. Set It Free [Ein, Loggins] (5:54)
8. Phantazia [Grusin] (4:29)
9. Liquid [Mason] (4:38)
Personnel:
Harvey Mason, Sr. Producer, Arranger, Drums, Vocals (Background)
Nathan Watts Bass
Verdine White Guitar
Larry Williams Wind
Greg Adams Horn
Dorothy Ashby Harp
Stanley Banks Bass
George Benson Guitar, Vocals
Emilio Castillo Saxophone
Merry Clayton Vocals
Jorge Dalto Keyboards
Victor Feldman Musician
Vonetta Fields Vocals
Chuck Findley Trumpet
Steve Forman Musician
Dave Foster Bass
Ronnie Foster Keyboards
Mic Gillette Horn
Gary Grant Horn
Jay Graydon Guitar
Dave Grusin Keyboards
Jerry Hey Trumpet
Kim Hutchcroft Vocals
Dick "Slyde" Hyde Trombone
Anthony Jackson Bass
Bob James Keyboards
Louis Johnson Bass
Debra Laws Vocals
Eloise Laws Vocals
Ralph MacDonald Percussion
Hoppy Mason Syndrums
Kenny Mason Trumpet
Marvin Mason
Al McKay Guitar
Paulette McWilliams Vocals
Mick Gillette Trombone, Trumpet
David Paich Keyboards
Ray Parker, Jr. Guitar
Jerry Peters Keyboards
Lenny Pickett Horn
Mike Porcaro Bass
Lee Ritenour Guitar
Skip Scarborough Composer
Tom Scott Horn,
Stephanie Spruill Vocals (Background)
Phil Upchurch Guitar
Charles Veal Violin
David T. Walker Guitar
Julia Waters Vocals (Background)
Maxine Waters Vocals (Background)
Bill Watrous Trombone
Download:
filesonic.com
wupload.com
Информация
Посетители, находящиеся в группе Гости, не могут оставлять комментарии к данной публикации.