VA - Blaxploitation. Soul Jazz & Funk From The Inner City (1996)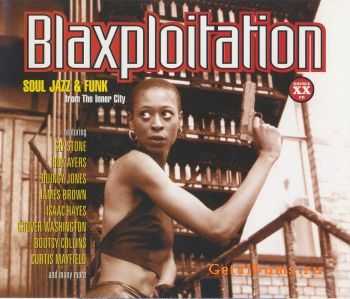 Artist
: VA
Title Of Album
: Blaxploitation. Soul Jazz & Funk From The Inner City
Year Of Release
: 1996
Label
: Global Television, BMG
Genre
: Jazz, Funk, Soul, Fusion
Quality
: Mp3
Bitrate
: CBR 320 kbps
Total Size
: 408 MB (Scans)
Tracklist:
CD1
01. The Ghetto (Hathaway)
02. Inner City Blues (Make Me Wanna Holler) (Washington)
03. Woman of the Ghetto (Shaw)
04. Pusherman (Mayfield)
05. Home Is Where the Hatred Is (Phillips)
06. Stone to the Bone (Brown)
07. Expansions (Smith)
08. Also Sprach Zarathurstra (Theme from 2001: A Space Odyssey) (Deodato)
09. Stratus (Cobham)
10. Theme from Shaft (Hayes)
11. He's a Superstar (Ayers)
12. Superfly (Mayfield)
CD2
01. Summer in the City (Jones)
02. For What It's Worth (Mendes)
03. Stepping Stones (Harris)
04. Nubian Lady (Lateef)
05. I'd Rather Be With You (Collins)
06. Straussmania (Joseph)
07. Children of the Ghetto (Pine)
08. The Other Side of Town (Joseph)
09. By All Means (Mouzon)
10. The Look of Love (Hayes)
11. If You Want Me to Stay (Stewart)
12. Why Can't We Live Together (Thomas)
Download / Скачать:
Uploaded.to
Rusfolder.com
Turbobit.net
Информация
Посетители, находящиеся в группе Гости, не могут оставлять комментарии к данной публикации.