The Soul Snatchers - Scratch My Itch (2012)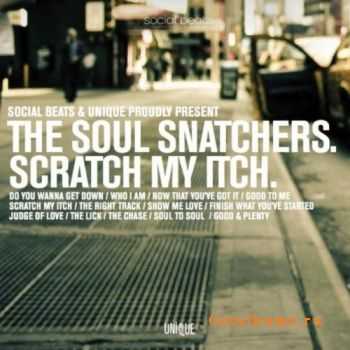 Artist
: The Soul Snatchers
Title Of Album
: Scratch My Itch
Year Of Release
: 2012-02-28
Label
: Unique Records / UNIQ196-2
Genre
: Funk / Soul
Format
: mp3/FLAC[log,cue,tracks]
Quality
: 320/Lossless
Total Time
: 46:19 min
Total Size
: 105/303 MB
Tracklist:
1. Do You Wanna Get Down
2. Who I Am
3. Now That You've Got It
4. Good To Me
5. Scratch My Itch
6. The Right Track
7. Show Me Love
8. Finish What You Started
9. Judge of Love
10. The Lick
11. The Chase
12. Soul To Soul
13. Good & Plenty
Real Soul Music never dies. That's what the insatiable musicians of the Dutch band The Soul Snatchers prove every time they treat a swinging crowd to their timeless, down to earth funk and soul tunes that find their roots in the sexy Sixties and Seventies of the 20th century. Taking pure Soul Music right across the bridge into the new century, The Soul Snatchers combine unknown classics and original compositions into a show that not only appeals to connoisseurs, but equally to bigger more mainstream-oriented audiences. The Soul Snatchers don't claim to have invented Soul Music, neither do they pretend to re-invent it. They just Have it! And they love to share it with Rhythm & Blues-lovers in every corner of the globe. Founded rock solid on the well oiled rhythm section of clean drums and thumping bass, the dangerously growling Hammond organ and the reverbing guitar sounds find their way into your soul blindly. Add to that the three-headed copper section The Dynamite Horns and the charismatic performances of singer Curtis T. and special guest vocalist Jimi Bellmartin, and all ingredients for a real Soul party are present. Now it's time to announce the long awaited second full album by the band: Scratch My Itch. The album will be released in February 2012 on Unique Records (Ger). The album is once again a feast for the listener containing lots of 70's funk grooves, soulful vocals, powerful horns and a grindin' Hammond organ, this all served with some 'swampy' New Orleans flavor. You will have yourself an album which brings you the best of The Soul Snatchers.
Информация
Посетители, находящиеся в группе Гости, не могут оставлять комментарии к данной публикации.