Bootsy Collins - Tha Funk Capital of the World (2011)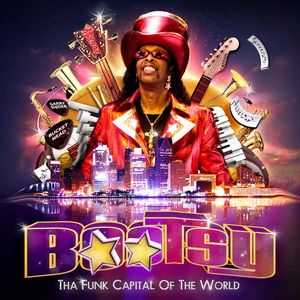 Исполнитель:
Bootsy Collins
Альбом:
Tha Funk Capital of the World
Год выхода: 2011
Страна: USA
Жанр: Funk
Время: 01:19:32
Качество: 320 kb
Размер: 175 mb
Треклист:
1. Spreading Hope Like Dope (Intro) 1:46
2. Hip Hop @ Funk U (Featuring – Chuck D, Ice Cube, Snoop Dogg, Swavay) 4:10
3. Mirrors Tell Lies (Featuring Jimi Hendrix) 5:11
4. JB-Still The Man (Feat. Rev. Al Sharpton) 4:30
5. Freedumb (When-Love-Becomes-A-Threat) (Feat. Dr. Cornel West) 4:05
6. After These Messages (Feat. Samuel L.Jackson) 4:54
7. Kool Whip (Feat. CandiSweetz, Phil Ade) 4:13
8. The Real Deal (Feat. CandiSweetz, Mike Phillips, Sheila E.) 3:55
9. Don't Take My Funk (Feat. Bobby Womack, Catfish Collins) 5:24
10. If Looks Cloud Kill (Feat. Béla Fleck, Dennis Chambers, ZionPlanet) 4:07
11. Minds Under Construction (Feat. (Z-Class), Buckethead) 6:37
12. Siento Bombo (Feat. Olvido Ruiz, Ouiwey) 4:03
13. The Jazz Greats (A Tribute To Jazz) (Feat. George Duke, Ron Carter) 3:57
14. Garry Shider Tribute (Feat. George Clinton, Linda Shider) 3:29
15. Stars Have No Names (They Just Shine) (Feat. Chrissy Dunn, Nick Arnold) 5:10
16. Chocolate Caramel Angel (Feat. Casper, Faith Daniels, Ronni Racket) 6:58
17. Yummy, I Got The Munchies (Feat. Musiq Soulchild, Razzberry, Tom Joyner) 7:03
Banjo – Bela Fleck
Bass [Space Bass & Warwick Bass] – Bootsy (tracks: 1 to 14, 16, 17)
Bass – Victor Wooten (15)
Drum Programming – Bootsy Collins, Oui-Wey Collins
Drums – Bootsy Collins, Dennis Chambers, Frankie "Kash" Waddy, Sheila E., Steve Jordan
Guitars – Bootsy, Buckethead, Catfish Collins, Garry Shider, Guitar Sallye, Ronni "Racket" Jennings, Shawn Steele, Tamah
Horns [Aux-horns-section] – Andrew Olson, Farnell Newton, Kyle Molitor, Michael Phillip
Keyboards – Bernie Worrell, Bootsy, Joel "Razor" Johnson, Morris Mingo
Percussion [African Drummers Percussion] – Fallou Sy, Mohamed Seck
Rap [Rhymes & Raps] – Rev. Al Sharpton, Bootsy, Chuck D, Dr. Cornel West, Danny Ray, Faith Daniels, Ice Cube, Jimi Hendrix, Khrys Styles, Phil Ade, Samuel L. Jackson, Snoop Dogg, Tom Joyner, Xavier Styles
Saxophone [Live Horns] – Brian Hogg, Hal Melia, RandyVillars
Strings – Casey-Driessen, Jerald Daemyon, Paul Patterson & The Bootzilla Orchestra
Trombone [Live Horns] – Fred Wesley, Marc Fields
Trumpet [Live Horns], Flugelhorn [Live Horns] – Gary Winters, Mike Wade
Vocals – Adrian Hall, Bobby Womack, Bootzilla Choir, The, Candice Cheatham, Catfish Collins, Chrissy Dunn, George Clinton, Gibbor & Esther, Li'l Diamond, Linda Shider, Musiq Soul Child, Nick Arnold, Olvido Ruiz, Pastor Cooper & Voices Of The Upper Room Choir, Penny Ford, Razzberry White, Tony Wilson Aka Young James Brown, Zion Planet 10
Produced and arranged by Bootsy Collins
Информация
Посетители, находящиеся в группе Гости, не могут оставлять комментарии к данной публикации.