Los Amigos Invisibles - Repeat After Me (2013)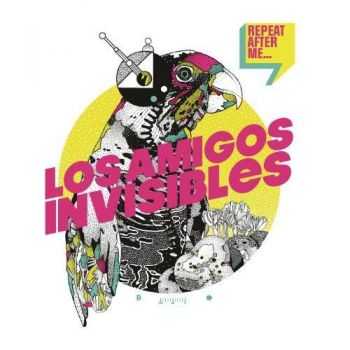 Artist
: Los Amigos Invisibles
Title Of Album
: Repeat After Me
Year Of Release
: 2013
Label
: Nacional Records
Genre
: Funk, Latin, Acid Jazz
Quality
: 320 / FLAC
Total Time
: 47:46 min
Total Size
: 109 / 330 MB
Tracklist:
01 Intro
02 La Que Me Gusta
03 Corazón Tatú
04 Sex Appeal
05 Río Porque No Fue Un Sueño
06 Stay
07 Mostro
08 Like Everybody Else
09 Hopeless Romance
10 Reino Animal
11 Robot Love
12 Invisible Love
13 Voltaren's Dream
Repeat After Me is Los Amigos Invisibles' sixth recording overall, and their third for Nacional. While the band's "new gozadera" sound remains, the level of sophistication at work here was only hinted at on their previous two offerings for the label. The Venezuelan sextet combines grooves that push the envelope of songwriting, arranging, and production at every turn. While Commercial and Not So Commercial utilized inspirations from Daft Punk to Prince's Paisley Park, the inspirations on Repeat After Me reach back further — toward the soulful funk of the mid- to late '70s, smooth disco, and Latin soul, with just enough lithe rock to expand the dynamics. "La Que Me Gusta"'s intro bassline is swiped straight from the Supremes' "You Can't Hurry Love," but the melody is less urgent, modern, warmer, a new breed of Latin soul. By contrast," "Sex Appeal" is pure wonky funk. "Río Porque No Fue un Sueño" melds Isley Brothers groove, Leroy Hutson's seductiveness, and Santana's guitar soloing circa Caravanserai and Welcome. With "Stay," a desperate, broken love song and the set's longest cut, the funk remains, but it's spacy, nocturnal, and emotive. The participation of the swinging trio Los Hermanoes Naturales on "Mostro" adds wild, scattershot gypsy jazz to the proceedings to boot. Throughout, the horn and string arrangements on some of the aforementioned cuts, or the fingerpopping — not to mention hilarious — "Reino Animal," expand the colorful palette of sounds and layered textures found on the set. Disco gets a real hearing on the largely instrumental "Robot Love" and the dancefloor banger "Invisible Love," near the album's end where the strings are straight out Barry White and the synths are pure Giorgio Moroder, all woven through this killer neo-Latin soul frame. Despite the obvious influential references, Los Amigos Invisibles are able to stretch and morph them into something completely their own. This is due in no small part to Julio Briceño's vocals. No matter the music's intensity, he manages to add this loose, laid-back feel to every utterance — whether he is singing in Spanish or English — that makes the party roll at a simmering heat. José Luis Pardo's production and mix are equal partners with the band in this creation. Together they make Repeat After Me another step up the creativity ladder for Los Amigos Invisibles.
Информация
Посетители, находящиеся в группе Гости, не могут оставлять комментарии к данной публикации.