Alice Clark - Alice Clark (1972)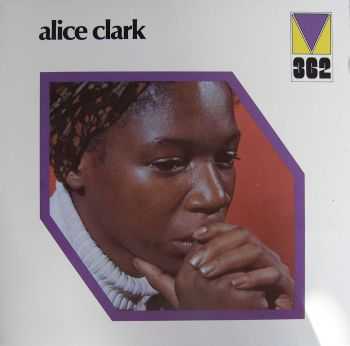 Artist
: Alice Clark
Title Of Album
: Alice Clark
Year Of Release
: 1972
Label
: Mainstream Records | MRL 362
Country:
USA
Genre
: R&B, Funk, Soul
Quality
: Mp3
Bitrate
: CBR 320 kbps
Total Time
: 30:52
Total Size
: 74 MB
WebSite
:
discogs.com
by Joe Viglione
:
[quote]The self-titled 1972 disc from Alice Clark has more than stood the test of time, it is a sublime masterpiece of R&B/pop from the house of Bob Shad, the jazz producer who founded Mainstream Records, the original home for this superior project. Perhaps it isn't a coincidence that Clark's repertoire is exactly the kind of material Janis Joplin would pick up on in her days after Big Brother & the Holding Company, as this was also the first imprint that Joplin & the Holding Company recorded for professionally. Jimmy Webb's "I Keep It Hid" starts things off, one of the singles released from this original package and a nugget from another soul masterpiece, Supremes Arranged and Produced by Jimmy Webb, when Webb oversaw the post-Diana Ross girl group the same year as this release. A rendition of Fred Ebb and John Kander's tune, "Maybe This Time" from the motion picture Cabaret, is included along with three compositions from "Sunny" author Bobby Hebb. The collection of material from Webb, Ebb, and Hebb is actually genius A&R because all of it is a perfect fit. Northern soul fans and R&B critics are aware of this hidden treasure, but the buildup in this review of all the magnificent trappings shouldn't overshadow the fact that Alice Clark delivers the goods from start to finish. Some call it acid jazz, but truth be told, beyond the cult niches of space age bachelor pad and Northern soul -- the base that keeps obscure gems such as this bubbling on a variety of radar screens -- this is some of the best R&B you've probably never heard. The trifecta of Bobby Hebb songs include "Don't You Care" and "Hard, Hard Promises," two titles Hebb has yet to release on his own. The third is an up-tempo version of "The Charms of the Arms of Love" which concluded his 1970 album Love Games. Clark rips apart "It Takes Too Long to Learn to Live Alone" in wonderful fashion with tasteful guitar, chirping horns, and restrained vibraphone. Juanita Fleming's "Never Did I Stop Loving You" is just brilliant as the vocals take off into different dimensions inside and between the unique melody. The final track,"Hey Girl," is not the famous Carole King/Freddy Scott hit -- it's a true find originally covered by Donny Hathaway and written by Hathaway's percussion player, Earl DeRouen. Here Clark changes it to "Hey Boy" in a lively, jazz-heavy jaunt which concludes the Toshiba/EMI version of this dynamite set of recordings that should have made Alice Clark a superstar.[/quote]
Tracklist:
A1 I Keep It Hid (3:27)
A2 Looking At Life (3:10)
A3 Don't Worry Why (3:22)
A4 Maybe This Time (3:18)
A5 Never Did I Stop Loving You (2:34)
B1 Charms Of The Arms Of Love (2:38)
B2 Don't You Care (2:49)
B3 It Takes Too Long To Learn To Live Alone (3:34)
B4 Hard Hard Promises (3:05)
B5 Hey Girl (3:16)
[quote][center]
Download / Скачать:
Uploaded.to
Rapidgator.net
Информация
Посетители, находящиеся в группе Гости, не могут оставлять комментарии к данной публикации.