The Sure Fire Soul Ensemble - Sure Fire Soul Ensemble (2015)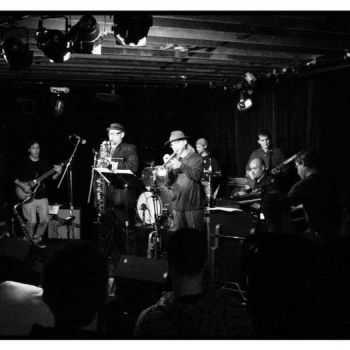 The Sure Fire Soul Ensemble is a heavy, original, instrumental soul band based in San Diego. They draw influence from the masters of the style from the past and modern day, including: Quincy Jones, Jimmy McGriff, Mulatu Astatke, Isaac Hayes, and The Poets of Rhythm.
This is the first full length release from The Sure Fire Soul Ensemble. The album will be available in late April on 180 gram vinyl via Colemine Records, other fine online vinyl retailers such as Fat Beats, Dusty Groove, or Juno, or at one of our many live shows.
Line-up:
Tim Felten - Hammond, Farfisa, Wurli, Rhodes, Clavinet, Percussion
Jesse Audelo - Baritone/Tenor Sax
Chris Lea - Baritone/Tenor Sax and Flute
Matthew LaBarber - Electric Bass
Pete Williams - Drums
Kiko Cornejo Jr. - Congas, Tamborine
Nicholas Costa - Electric Guitar
Bill Caballero - Trumpet, Flugelhorn
Sheryll Pasis - Hand Percussion
Tracklist:
1.Layin' Low 03:03
2.City Heights 03:43
3.The Hunt 03:40
4.Lane Changin 03:23
5.Strollin' Adams 03:25
6.Funky River 03:34
7.The Blvd 03:40
8.Sander's Lament 04:02
9.umpty Dumpty 03:21
10.Sweltering Heights 03:14
11.Passing Clouds 03:55
12.IB Struttin' 03:41
турбобит
бин
Информация
Посетители, находящиеся в группе Гости, не могут оставлять комментарии к данной публикации.