Rob Crow - He Thinks He's People (2011)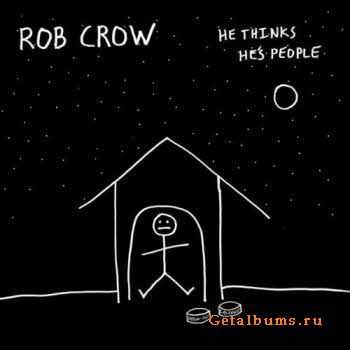 Исполнитель:
Rob Crow
Альбом:
He Thinks He's People
Год выхода: 2011
Страна: Fr.
Жанр: Alternative, Indie, Rock
Время: 33:33 Min
Качество: Mp3 | 320 kbps
Размер: 80 Mb
Треклист:
1. Sophistructure
2. Scalped
3. This Thread
4. Tranked
5. Prepare To Be Mined
6. Build
7. Patºs Cabs
8. So Way
9. Locking Seth Putnam In A Hot Topic
10. Purpose
11. Iºd Like To Be There
12. Unstable
13. Hangnailed
As Rob Crow has continued to make music over the years it's a gentle delight to realize how distinct a voice, literal and referring to his work as a whole, he's been able to create — there's always something steady and ultimately sweet (however sour a lyric might be) in both Pinback and his solo efforts, a sweet clarity and structure that appeals without trying to beat over the head or be randomly frenetic or sloppy (though "Build" certainly comes close to that in its nervous quaver and quick guitar scrapes and beats, skating close to the edge but never quite going over it). Otherwise, He Thinks He's People continues this admirable path, "Sophistructure" feeling like it emerged with every part in perfect place down to the sudden chorused vocals. From there it's almost one high point after another, whether it's the to-die-for spotlight chorus on "So Way" melting into the waggish tale of "Locking Seth Putnam in Hot Topic," the latter a bit of slick dance-rock crunch refigured in Crow's style, or the quiet, almost barely there "Unstable," a soft touch of electric guitar and a whisper of a voice for its first half before turning into a bolder declaration of feelings. Crow's knack for creating something that feels trancelike as much as it is pop, whether driven by keyboards, guitar, vocals, or a particular combination of them, is constantly evident, from the steady flow of "Scalped" to the fuller power pop kick of "Prepare to Be Mined," especially on its treat of a chorus. Even songs as simple in approach as "This Thread" and "Purpose," only acoustic guitars and singing, have an obsessively intense feeling that's never oppressive, a realization of the beauty in focus and precision.
Информация
Посетители, находящиеся в группе Гости, не могут оставлять комментарии к данной публикации.