Plants And Animals - The End of That (2012)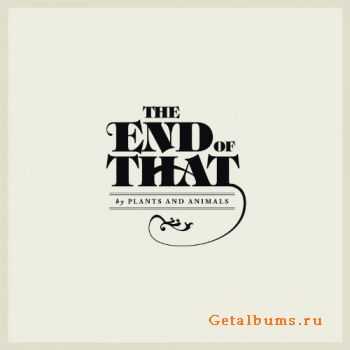 Artist
: Plants And Animals
Title Of Album
: The End of That
Year Of Release
: 2012
Label
: Secret City Records
Genre
: Indie
Format
: mp3/FLAC(log,cue,tracks)
Quality
: 320/Lossless
Total Time
: 44:19 min
Total Size
: 100/286 MB
Tracklist:
1. Before 3:57
2. The End of That 4:04
3. Song for Love 4:41
4. Lightshow 3:36
5. Crisis! 6:10
6. 2010 6:35
7. HC 0:52
8. Why & Why 2:28
9. Control Me 4:17
10. No Idea 2:35
11. Runaways 5:12
The End of That is Plants and Animals' third album, following their breakthrough debut, Parc Avenue, and 2010's La La Land. It showcases the band in an intimate, almost live-off-the-floor setting. While there's no shortage of their catchy electric guitar riffs, as evidenced on lead single "Lightshow," the album also showcases lead singer Warren C. Spicer on piano, and plenty of acoustic work will feel right at home with The End of That, while lovers of the band's multi-part excursions won't be disappointed either; side A and B of the album end and begin with their own respective anathematic monsters. Plants and Animals have a large live following, and have supported The National, Grizzly Bear, Frightened Rabbit and Broken Bells, among others.
Информация
Посетители, находящиеся в группе Гости, не могут оставлять комментарии к данной публикации.