Crocodiles - Endless Flowers (2012)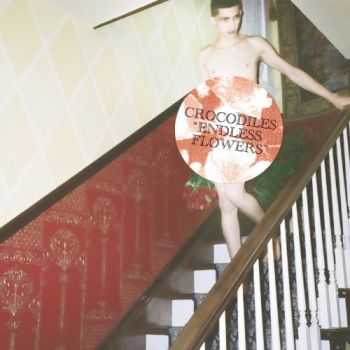 Artist
: Crocodiles
Title Of Album
: Endless Flowers
Year Of Release
: 2012-06-05
Label
: Souterrain / Sou031LP
Genre
: Indie Rock / Noise Rock / Shoegaze
Quality
: 320 kbps
Total Time
: 41:28 min
Total Size
: 94.7 MB
Tracklist:
1. Endless Flowers
2. Sunday (psychic Conversation #9)
3. No Black Clouds For Dee Dee
4. Electric Death Song
5. Hung Up on A Flower
6. My Surfing Lucifer
7. Dark Alleys
8. Bubblegum Trash
9. Welcome Trash
10. You Are Forgiven
San Diego, CA's Crocodiles have signed to Frenchkiss Records and will release their third full-length album, Endless Flowers, on June 5th, 2012. Recorded in Berlin last summer, Endless Flowers is the first album to feature Crocodiles' full five-piece line up, which has evolved from their 2008 genesis as the core duo of singer/guitarist Brandon welchez and guitarist Charles Rowell to now include keyboardist Robin Eisenberg, bassist Marco Gonzalez, and drummer Anna Schuite. Endless Flowers follows in the footsteps of the band's stellar two previous releases (2010's Sleep Forever and 2009's debut Summer of Hate), while adding a refined cohesion and unmistakable sunny-ness to their glorious noise- and echo-cloaked pop. The title track opener is four and a half minutes of soaring, alarm-ringing guitars, while "Sunday (Psychic Conversation #9)" comes next with a resounding, punk-inflected charge. The 7-plus minute "My Surfing Lucifer" begins with two minutes of grimy, hissed spoken word before ascending to glammy, distorted heights; the bass-heavy and buzzing "Dark Alleys" is a motorik march; and the swirling "Bubblegum Trash" has a sweet, dirty charm. Nearly all are single-worthy, and are embellished with Welchez's newly forward-mixed croon. Crocodiles are: Brandon Welchez (vocals, guitar), Charles Rowell (guitar), Marco Gonzalez (bass), Anna Schulte (drums), and Robin Eisenburg (keyboards).
Информация
Посетители, находящиеся в группе Гости, не могут оставлять комментарии к данной публикации.