Led Er Est - The Diver (2012)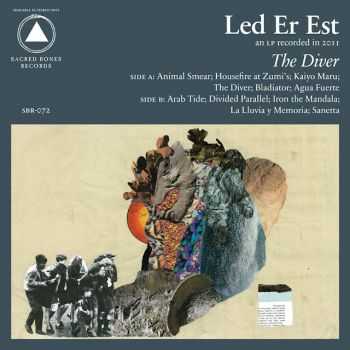 Artist
: Led Er Est
Title Of Album
: The Diver
Year Of Release
: 2012-05-08
Label
: Sacred Bones
Genre
: Electronic / New Wave
Quality
: V0 kbps
Total Time
: 40:53 min
Total Size
: 68.6 MB
Tracklist:
01 animal smear
02 housefire at zumi's
03 kaiyo maru
04 the diver
05 bladiator
06 agua fuerte
07 arab tide
08 divided parallel
09 iron the mandala
10 la lluvia y memoria
11 sanetta
Led Er Est emerged from a series of jam sessions that core members Shawn O'Sullivan and Sam De La Rosa started having in early 07, using bass guitar and some cheap drum machines and synths. They were inspired to record music largely by 70's synth prog, and 80's lo-fi electronics and industrial music. Owen Hutchinson joined the band for their first live show, at the Wierd party that December. In November of 09' Wierd Records released their debut full length. In spring of 2010, they toured Europe with Xeno and Oaklander, playing shows in the UK, Belgium, Germany, the Czech Republic, and Italy.
Информация
Посетители, находящиеся в группе Гости, не могут оставлять комментарии к данной публикации.