VA - Electrope Vol. II We Came To Trance (1994)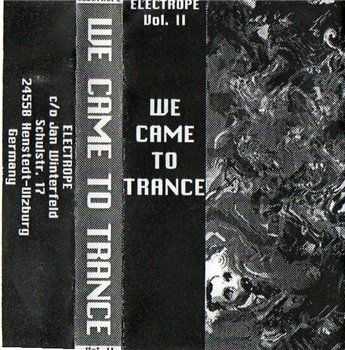 Artist:
VA
Album:
Electrope Vol. II: We Came To Trance
Date:
1994
Label:
Electrope
Format
Cassette, Compilation
Country:
Germany
Style:
EBM, Electro
Quality:
128 kbps
Size:
98.98 MB
Tracklist:
A1. Individual Totem - Psychologic Medicine
A2. Econic - Fortschritt
A3. Transform At Zero - System Overload
A4. Controlled Fusion - Technique '94
A5. Fuze Box Machine - The Last Dance '94
A6. Abscess - Man Machine
A7. Forthcoming - Ballad Pour K
A8. Claire - Bereit
A9. Mark Lane - Das Nicht (Factory)
A10. The Permanent Confusion, - Stoned Again
B1. Der Prager Handgriff - Wehret Den Anfangen (Remix)
B2. Consequence - Seductive?
B3. Travailleur En Trance - Slave To Capitalism
B4. Morbid Fancy - Dirty Money
B5. Sleepwalk - Suicide Minds
B6. Katarsi - XO5
B7. Experience Of Nation - Oasis
B8. Neuroactive - The World Contamination
B9. Neurotronic - Real World Hater
B10. Jagged Fragment - Learn To Die
Информация
Посетители, находящиеся в группе Гости, не могут оставлять комментарии к данной публикации.