Zombie Girl - Killer Queen [Deluxe Edition] (2015)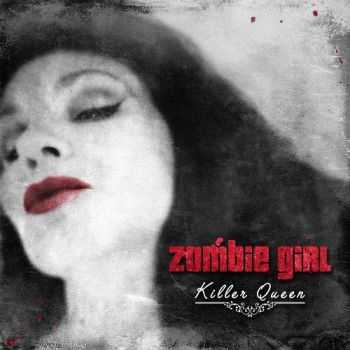 Исполнитель:
Zombie Girl
Страна:
Canada
Альбом:
Killer Queen [Deluxe Edition]
Жанр
:
EBM / Futurepop
Лейбл
: Alfa Matrix
Год выхода:
2015
Формат:
MP3 CBR 320 kpbs
Размер:
256 МБ
Трэклист/описание:

Did you survive her last "Panic Attack"? Well… your favorite ZOMBIE GIRL will make you bleed some more! This time, the undisputed singing siren of the living dead, and one of Alfa-Matrix's leading artists, ZOMBIE GIRL strikes back with her new full length album "Killer Queen" out on Halloween 2015…!!!
Produced & engineered by none other than the highly skilled and renowned duo team of Kurt Maas & Dave Rave Ogilvie, this new album invites you to open up and enjoy these new "ZBM" tunes going from catchy dance pop songs to harsher somber distorted tracks. Boosted by dancefloor guru Lawrie Bayldon (STUDIO-X)'s mastering skills, the electrifying "Killer Queen" shakes your stereo system to the max with ZOMBIE GIRL's characteristic heavy vibrating basslines, addictive kinky grooves and that soooo unique hypnotizing female voice that keeps haunting you days and nights…
Fall under her spell, join her zombie army and let ZOMBIE GIRL guide you through her new nightmarish journey through the walking dead, made of tracks like the ultimate hellish dance of "Rave Of The Dead", the killer industrial opener "Thorazine", the bleeding elektro assault of "Panic Attack", the tormented dark pop title-track "Killer Queen", the almost filmatic hot S/M session of "Pleasure Games", the apocalyptic slo-mo groove of "Dead Inside", the late night psychedelic craziness of "Night Drive" or yet the much 80's inspired lamenting love song from beyond the grave "Kiss Kiss Kiss"…
The album also gets augmented by cover versions of BERLIN's classic "Pleasure Victim" and THE CURE's unmatched, "Fascination Street", next to 4 dancefloor compatible remixes: the instant future-pop club hit "Rave Of The Dead" by PRE:EMPTIVE STRIKE 0.1, the modern dance retake of "Dead Inside" by AESTHETISCHE label mates, the bombastic orchestral dark reinterpretation of the "Pleasure Games" sessions by Japanese cult act DIABOLIC ART (DJ Taiki) and a harsh and heavy guitar crossover sonic rape of the "Killer Queen" by mister HELL:SECTOR…The whole zombie adventure being visually immortalized by the unique Japanese designer Tomoki Hayasaka (www.sheerheart.jp)...
The new era from ZOMBIE GIRL has commenced… Get ready for the new ZBM! Go Zombie… Go Zombie… Go ZOMBIE GIRL! "Stay away from the dead… They've all gone wrong… gone wrong, wrong, WRONG!"

CD1
1. Thorazine (2:43)
2. Panic Attack (3:45)
3. Killer Queen (2:40)
4. Night Drive (3:22)
5. Kiss Kiss Kiss (3:40)
6. Pleasure Games (3:14)
7. Rave of the Dead (3:14)
8. Dead Inside (2:14)
9. Fascination Street (3:57)
10. Pleasure Victim (3:32)
11. Rave of the Dead (Preemptive Strike 0.1 Mix) (3:42)
12. Dead Inside (Aesthetische Mix) (5:11)
13. Pleasure Games (Diabolic Art Mix) (5:35)
14. Killer Queen (Hell: Sector Mix) (4:34)
CD2
1. Killer Queen (Llumen Mix) (4:42)
2. Pleasure Games (Pax Sono Mix) (3:50)
3. Panic Attack (Simon Carter Clubbed up Mix) (4:14)
4. Thorazine (Psy'aviah Mix) (3:55)
5. Panic Attack (Avarice in Audio Mix) (4:43)
6. Rave of the Dead (Eexxee Mix) (4:21)
7. Dead Inside (Cardinal Noire Mix) (3:45)
8. Panic Attack (Venal Flesh Mix) (4:58)
9. Pleasure Games (Black Nail Cabaret Mix) (4:43)
10. Killer Queen (feat. n0emi) [Helalyn Flowers Mix] (4:51)
11. Thorazine (Shades: Of: Hell Mix) (3:35)
12. Pleasure Games (Complex Mind Mix) (4:17)
13. Dead Inside (Diffuzion Mix) (4:17)
14. Panic Attack (Acylum Mix) (3:37)
Download:
Информация
Посетители, находящиеся в группе Гости, не могут оставлять комментарии к данной публикации.