Grover Washington Jr. - Discovery (2001)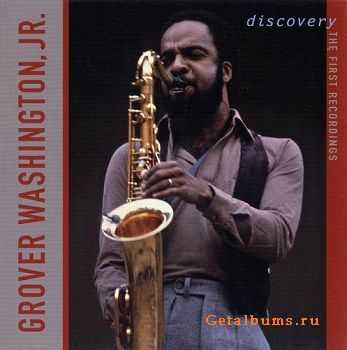 Artist
: Grover Washington Jr.
Title Of Album
: Discovery
Year Of Release
: 2001
Label
: Prestige
Genre
: Jazz, Smooth Jazz
Format
: MP3
Quality
: 320 kbps I 44.1 Khz I Joint Stereo
Total Time
: 01:09:06
Total Size
: 159 mb
While it's true that Grover Washington, Jr.'s first album as a leader was the wonderful Inner City Blues album on Creed Taylor's Kudu label, the sessions included here predate it and feature Washington Jr. in the role of sideman to Charles Earland, Johnny "Hammond" Smith, Boogaloo Joe Jones, and Leon Spencer Jr.. The nine cuts included here were recorded between September 1970 and August 1971. Most of them are straight-ahead blowing B-3 dates where the emphasis on groove and grit is equal and pervasive. While there isn't a weak track here and Washington's playing is deeper in the register than in his later material, there is one irritating factor about the assemblage of the album. Rather than place all of Washington's work with a particular leader in one place, such as all the Boogaloo Joe Jones tracks in one place, the producers have elected to go with the timeworn path of least resistance and arrange them chronologically. While there is an argument that can be made for a player's development over time, there is another to make for the work a musician does with a particular leader. And this is where the disparity comes in here. While the scorching funk and groove of "No Way," with Jones, gets the disc off to a hot start (with Bernard Purdie on drums, Sonny Phillips on organ, and Jimmy Lewis on bass) with its rolling eights, it is contrasted on the follow-up with "Between the Sheets," with Smith leading the date (and James Clark on guitars, Lewis on bass, and Eddie Gee on skins). While Washington's solo is notable here for its smoother and silky delivery, it stands in sharp contrast to the previous track, and on and on. Thankfully, the Earland track "Killer Joe," with its wailing counterpoint between the leader and his saxophonist, is saved for last since there is simply no other track to follow it. This is a small complaint, however, as the material here is strictly top-shelf, full of sweat, raw groove, and greasy funk. This isn't a package job for quick cash, but a revealing portrait of an amazingly soulful and talented soloist who walked in the door in 1970 in full possession of his voice with clear directions on how to get around on his instrument.
Tracks:
1. No Way
2. Between The Sheets
3. Sunshine Alley
4. Our Love Will Never Die
5. I Feel The Earth Move
6. L & J
7. Inside Job
8. Fadin'
9. Killer Joe
Download:
filesonic.com
Информация
Посетители, находящиеся в группе Гости, не могут оставлять комментарии к данной публикации.