Charlie Rouse - Bossa Nova Bacchanal (1962)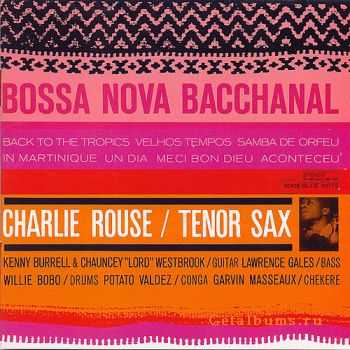 Artist
: Charlie Rouse
Title Of Album
: Bossa Nova Bacchanal
Year Of Release
: 1962
Label
: Blue Note
Genre
: Bossa Nova
Format
: MP3
Quality
: 320 kbps I 44.1 Khz I Joint Stereo
Total Time
: 00:35:29
Total Size
: 77 mb
This 1962 date by tenor saxophonist Charlie Rouse celebrates a grander and funkier scale of what Stan Getz and Charlie Byrd did earlier in 1962 with the bossa nova. Unlike Getz, Rouse didn't feel he needed to be a purist about it, and welcomed all sorts of Afro-Caribbean variations into his music. His choice of bandmates reflects that: a three-piece percussion section with drummer Willie Bobo, conguero Carlos "Patato" Valdes, and Garvin Masseaux on chekere (a beaded percussion instrument that is played by being shaken). Add to this bassist Larry Gales, and a pair of guitarists, Kenny Burrell, and Chauncey Westbrook, along with Rouse, and it is an unusual and exotic sextet. Burrell and Masseaux were part of Ike Quebec's band on Soul Samba, but the two recordings couldn't be more different. For his part, Rouse's embrace of bossa nova, as well as other Latin and Caribbean music, is firmly rooted in jazz and not American jazz trying to be Brazilian. Rhythmically, Rouse, who is a hard bopper if there ever was one, takes the rhythmic and harmonic concepts of the samba, marries them to Afro-Caribbean folk styles, and burns it all through with the gloriously unapologetic swing of jazz. The standout selections here are a pair of Luiz Bonfб tunes, "Velhos Tempos," and his classic "Samba de Orfeu." On the former, both guitarists play unamplified guitars in rhythmic counterpoint as Rouse offers first the melody, and then an improvisation in the upper register of the horn, on the latter, nix the counterpoint and listen, as both guitarists shimmer through the changes, one playing just behind the beat for a reverb effect. The percussion interplay is startling in its complexity, but seamless and warm in its balance, resulting in a fine section solo in the middle of the cut that is infectious. Ultimately, this is one of Rouse's finest moments as a leader.
~ Thom Jurek, All Music Guide
Tracks:
1. Back to the Tropics (Leighla Whipper)
2. Aconteceu (Lincoln-Cezar)
3. Velhos Tempos (Luiz Bonfa)
4. Samba de Orfeu (Luiz Bonfa)
5. Dia (Rouse-Benskina)
6. Meci Bon Dieu (Frantz Casseus)
7. In Martinique (Belasco-Whipper)
Personnel:
Charlie Rouse, tenor sax
Kenny Burrell & Chauncey "Lord" Westbrook, guitar
Lawrence Gales, bass
Willie Bobo, drums
Potato Valdez, conga
Garvin Masseaux, chekere
Recorded: Nov. 26, 1962
Download:
filesonic.com
unibytes.com
Информация
Посетители, находящиеся в группе Гости, не могут оставлять комментарии к данной публикации.