Monsieur Dubois - Slow Bombastik (2011) flac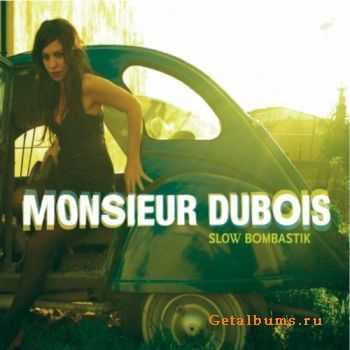 Artist
: Monsieur Dubois
Title Of Album
: Slow Bombastik
Year Of Release
: 27-03-2011
Genre
: Acid Jazz / Funk / Hard Bop
Label
: Coast To Coast
Catalog #
: FHR013
Quality
: FLAC(log,cue,tracks)
Tracks
: 09
Time
: 39:56 min
Size
: 238 MB
Tracklist:
1. The Muscleman
2. Blacklight
3. Dance
4. Epo Tree
5. Tentakles
6. Slow Bombastik
7. Smoke
8. Fury Tales Of The Hideous Knight
9. Chouffe Chouffe
Alsof je vanuit een zweterige discotheek wordt meegesleurt naar de markt van Lagos en vervolgens na het zien van een Blaxploitation-movie wordt gedropt op de Russische steppe… Zo ongeveer voelt "Slow Bombastik", het album van Monsieur Dubois. Na het debuut 'Ruff' en opvolger 'Soul Integration' komt de band met een krachtig, vers statement. Een gevarieerde plaat die meteen ter zake komt, de eenvoud niet schuwt en zoals we van Monsieur Dubois gewend zijn, lekker op stoom raakt met eigenwijze grooves en spetterende solo's. De obscure Franse vogelspotter slaakt wederom een woeste kreet van extase! Met "Slow Bombastik" deelt Monsieur Dubois een beslissende klap. De tracks variëren van brutale funk, nasty floorfillers en kokende afrobeats tot relaxte chill muziek en stemmige rustmomenten. Monsieur Dubois is terug en noemt het SLOW BOMBASTIK!
Информация
Посетители, находящиеся в группе Гости, не могут оставлять комментарии к данной публикации.