Grover Washington Jr. - Mister Magic (1975)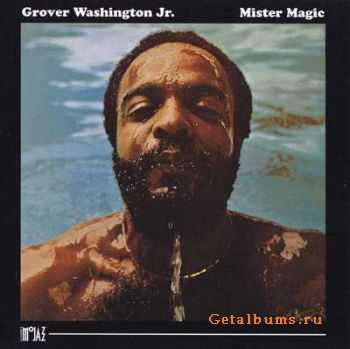 Artist
: Grover Washington Jr.
Title Of Album
: Mister Magic
Year Of Release
: 1975
Label
: Kudu
Genre
: Jazz-Funk
Format
: MP3
Quality
: 320 kbps I 48 Khz I Joint Stereo
Total Time
: 00:32:50
Total Size
: 115 mb
This is one of Grover Washington, Jr.'s best-loved recordings and considered a classic of r&bish jazz. All four songs (which includes Billy Strayhorn's "Passion Flower") are quite enjoyable but it is "Mister Magic" that really caught on as a major hit. Bob James provided the colorful if somewhat commercial arrangements, there are spots for guitarist Eric Gale, and Washington (mostly on tenor and soprano) is heard in particularly creative form. Highly recommended. ~ Scott Yanow, All Music Guide
Tracks:
1. Earth Tones [James] (12:23)
2. Passion Flower [Raskin, Strayhorn] (05:36)
3. Mister Magic [MacDonald, Salter] (09:01)
4. Black Frost [James, Washington] (06:06)
Personnel:
Grover Washington, Jr. Saxophone (Tenor), Saxophone (Alto), Saxophone (Soprano)
Bob James Arranger, Conductor, Piano, Piano (Electric), Keyboards
Ralph MacDonald Percussion
Eric Gale Guitar
Harvey Mason Drums
Gary King Bass (tracks 2-4)
Andre Wayne Trombone
Phil Upchurch Bass (track 1)
Alan Shulman Cello
Charles McCracken Cello
Jon Faddis Trumpet, Fluglehorn
Marvin Stamm Trumpet, Fluglehorn
Tony Studd Bass Trombone
Phil Bodner Saxophone (Baritone)
Jerry Dodgion Saxophone (Tenor)
David Nadien Violin
Harold Kohon Violin
Harry Glickman Violin
Harry Lookofsky Violin
Joe Malin Violin
Matthew Raimondi Violin
Max Ellen Violin
Paul Gershman Violin
Al Brown (2) Viola
Manny Vardi* Viola
Download:
filesonic.com
wupload.com
Информация
Посетители, находящиеся в группе Гости, не могут оставлять комментарии к данной публикации.