Ellis Larkins - Blue And Sentimental (1958)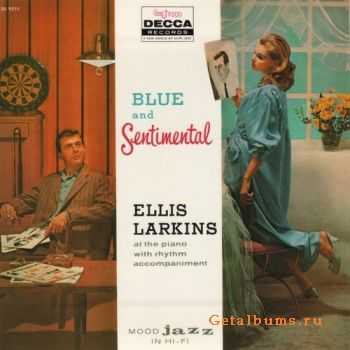 Artist
: Ellis Larkins
Title Of Album
: Blue and Sentimental
Year Of Release
: 1958
Label
: Decca
Genre
: Jazz
Format
: MP3
Quality
: 320 kbps I 44.1 Khz I Joint Stereo
Total Time
: 00:41:21
Total Size
: 84 mb
ЛАРКИНС ЭЛЛИС (Larkins Ellis) (р. 15 марта 1923, Балтимор, шт. Мэриленд), американский джазовый пианист, один из лучших аккомпаниаторов.
Рос в музыкальной семье: отец — скрипач, мать — пианистка. Брал частные уроки, в юности одновременно исполнял Моцарта и играл в негритянском школьном бэнде. Продолжил образование в консерватории Балтимора и в Джульярдской музыкальной школе в Нью-Йорке. В одном из клубов его «открыл» Джон Хэммонд и продвинул на престижные концертные площадки Нью-Йорка. Однако Ларкинс в 1940-50-е гг. чаще выступал как аккомпаниатор (Элла Фицджеральд, Милдред Бэйли и Хелен Хьюмс считали его лучшим партнером), хотя его дуэты с Руби Браффом (два альбома Inventions In Jazz) были признаны весьма удачными. Собрал собственное трио только в середине 1970-х гг. и в дальнейшем активно концертировал в США и Европе.
Famous for his subtle chord voicings and ability to accompany singers, Ellis Larkins has been in great demand throughout his long career. His parents were musicians (his mother played piano while his father was a violinist) and Larkins was hailed as a prodigy early on, appearing with an orchestra when he was 11. After graduating from the Peabody Conservatory and Juilliard, Larkins was part of Edmond Hall's group in the mid-'40s; recorded with Mildred Bailey, Coleman Hawkins, and Dicky Wells; and then worked regularly at the Village Vanguard and the Blue Angel in New York over a 20-year period. His duet records with Ella Fitzgerald and Ruby Braff in the 1950s are masterpieces in subtlety, and he was also a busy studio player. During the 1960s, Larkins worked with singers Joe Williams, Jane Harvey, Georgia Gibbs, and even Eartha Kitt and Harry Belafonte; since then, Larkins has continued playing in New York clubs with a wide variety of singers. He recorded as a leader for Storyville and Decca in the 1950s, for Halcyon and Black & Blue in the 1970s, had additional duets with Braff for Chiaroscuro, and was featured on a couple of dates for Concord, including a 1992 recital at Maybeck Recital Hall. - Scott Yanow
Tracks:
01. Am I Blue (3:03)
02. Interlude #1 (3:49)
03. Blue Prelude (2:58)
04. At Loose Ends (4:16)
05. Blue and Sentimental (2:55)
06. Ode to Marie (4:26)
07. Blue Moon (3:02)
08. Interlude #2 (3:17)
09. Time (3:18)
10. Blue Again (3:09)
11. Four Bar Intro with Tag (3:47)
12. A Blues Serenade (2:49)
Personnel:
Ellis Larkins - Piano
Jim Crawford - Drums
Joe Benjamin - Bass
Skeeter Best - Guitar
Download:
filesonic.com
unibytes.com
Информация
Посетители, находящиеся в группе Гости, не могут оставлять комментарии к данной публикации.